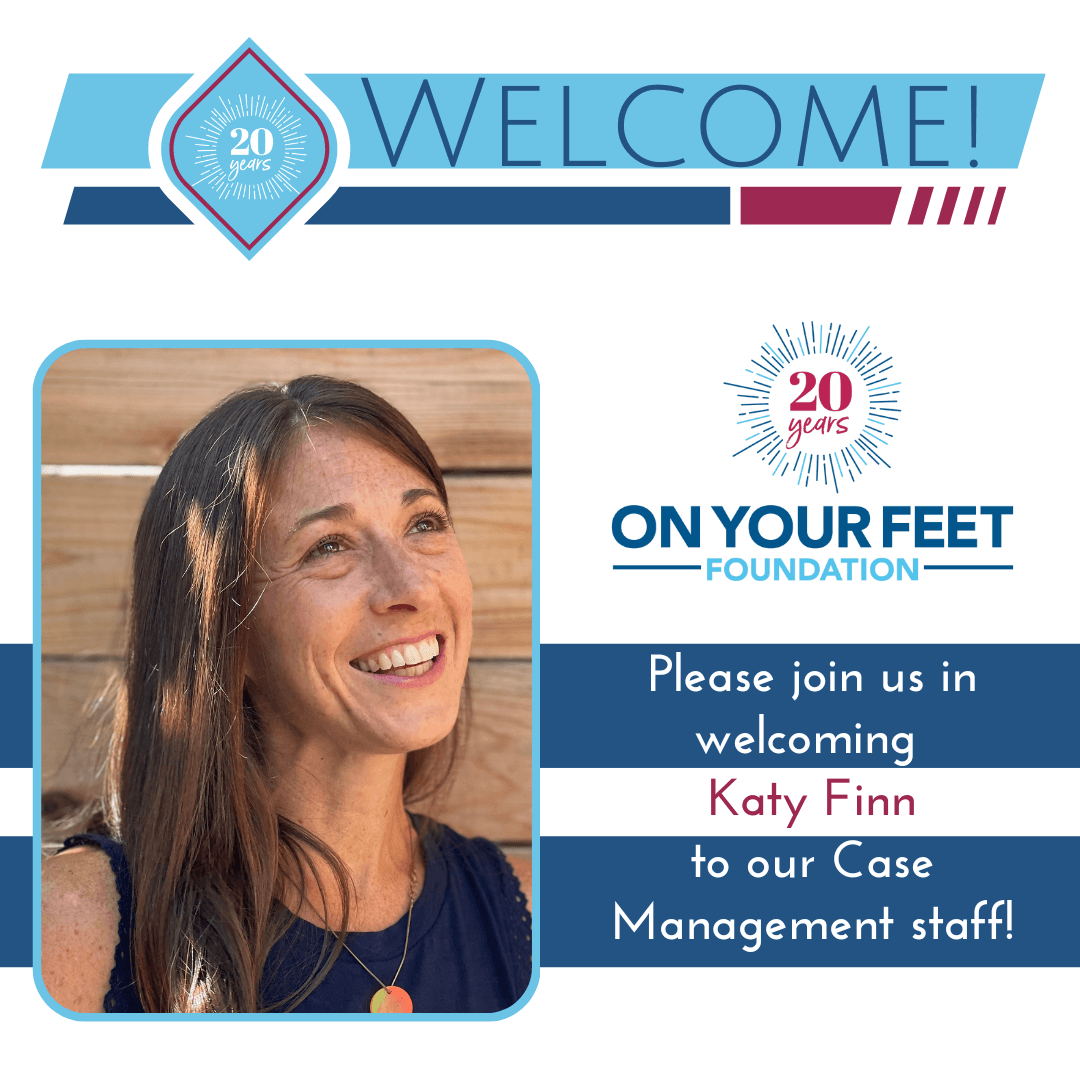 We have new case management staff to introduce to our community, and we couldn't be more excited about the amazing people joining us. We already introduced you to Kiara, and up this week, Katy. If you attend our Activism in Adoption Speaker Series, Katy might already be a familiar face - she came to speak about her theatre piece, Placing Home, which centers birthmother stories, unpacking the powerful role adoptive mothers can play in shifting the pervasive adoption narrative.
A New Yorker at heart, Katy grew up on Long Island and went on to earn a BFA from New York University and an MA from the City University of New York. She is an educator, theater artist, writer, and most importantly, a mother via open, transracial, domestic adoption. Since the birth of her two children, Katy has become passionate about using creative means to explore adoption. Katy first worked with On Your Feet Foundation in 2019 through a collaboration with Piven Theatre Workshop and Erasing the Distance to create Placing Home, a verbatim theater piece that explored adoption from the birth mother perspective. Her personal essays have been featured on numerous websites including, Motherly and Coffee and Crumbs. Katy is currently training to run her first half marathon and when she's not running for her physical and mental health, she's running after her two wildly energetic boys, ages 7 and 3. 
We thought it might be fun to play 10 Questions, to let our community get to know a little more about Katy.
What is your connection to adoption?
Both my children were adopted. Rory is 7 and Desi is 3. We like to say, our sun baby was born in Ft. Lauderdale, Florida, and our snow baby was born in Buffalo NY. We have open adoptions with both boys' birth families.
Before joining OYFF what was the most unusual or interesting job you've ever had? Why/what made it so interesting?
Oh my gosh. Well, take your pick; I was a celebrity nanny for 6 years (I won't reveal to who!) [ed. note: don't worry, fam - we will get this out of her eventually!]. I worked in a urologist's office labeling urine (ha!), and back when I was acting professionally, I was on an episode of Law and Order, SVU that still airs from time to time.
What brought you to On Your Feet Foundation, and made you want to work with birthparents?
Open adoption is the most profound and meaningful thing that has ever happened in my life. Its complexity is humbling and it's such an honor to have my children's birth parents in our lives. It's not always easy, but openness in adoption has been my greatest teacher.
What are you looking forward to most about your new job?
Collaborating with incredible women to do meaningful work!
What might someone be surprised to learn about you?
 I met my husband when I was 15 years old. He was my high school sweetheart and prom date.
When you aren't working, what is your favorite way to relax?
A nice long (slow) run or a glass of wine and Thai food in front of the TV.
If you could have dinner with anyone, living or dead, who would it be? Why?
Gosh, I think I would go with Tony Butera, the director of my high school plays and musicals. He treated us all like professional artists and his love of theater was infectious. He trusted me to find my own creative process and was a mentor who shaped my love of theater and performing. I haven't seen him in over 20 years, and I would love to thank him and talk all things theater.
What is the last show you binge-watched? What is the next one going to be?
The Australian reality show, Instant Hotel (on Netflix). I'm not proud. It's not even good, but it sucks you in! I hope the next one will be the Selena Gomez/Martin Short/Steve Martin comedy on Hulu. Perhaps, step one would be learning the name of the show.
What is the last thing that made you laugh?
The podcast, My Favorite Murder. I'm not kidding. The premise of the podcast is two women writers/comedians discussing different murders/crimes throughout history. It might not sound funny, but they are all about humor, mental health, and empowering women. They also happen to be true crime junkies.
Who inspires you? Why?
That would be my mom. She is joyful and giving and lives her life with such gratitude and love. She's a retired teacher and librarian, and, even in her mid 70's, is always learning and evolving. She has been so open to learning about our transracial adoption journey. She asks questions, she makes mistakes, and she is supportive of understanding the nuances of raising two Black children and wants to learn along with us. When my first son was born, she flew to Florida and spent quite a bit of time with my son's birthmom, as she recovered from giving birth. My mom writes letters to my children's birthmoms throughout the year; always sharing her deep love of her grandsons. I don't think she imagined this is what her role as "grandma" would be, but she's embracing it and doing an incredible job.
We hope this let you get a little more insight into who Katy is, and we are so excited to have her join our staff!