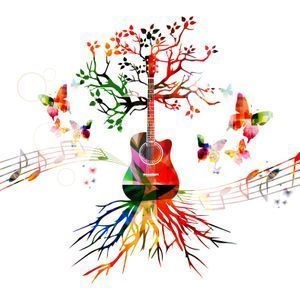 Create! Birthparent Arts Grant
On Your Feet Foundation's Create! Birthparent Arts Grant is an opportunity for birthparents to utilize their creative and artistic talents to allow for expression and healing, providing a medium to share feelings, emotions and thoughts as they experience their adoption journey.
Create! encourages projects that use the arts to allow for healing, growth, and advocacy in response to their adoption. Projects funded may include writing, music, performance and visual art.
---
Why Art?
Art is a powerful therapeutic tool.  It has been demonstrated to be beneficial in managing behaviors, processing feelings, reducing stress and anxiety, and increasing self-esteem.
Self-discovery: Creating art helps acknowledge and recognize feelings that have been lurking in the subconscious.
Self-esteem: The process provides a feeling of self-accomplishment which can be very valuable towards improving one's self-appreciation and confidence.
Emotional release: Art can provide a healthy outlet for expressing and letting go of negative feelings and fears. Complex emotions such as sadness or anger sometimes cannot be expressed with words. Making art can help achieve emotional release when other means of expression are not possible - i.e. finding the right words to express thoughts and feelings.
Stress relief: Fighting anxiety, depression or emotional trauma can be very stressful both mentally and physically. Creating art can be used to relieve stress and relax the body and mind.
Who Is Eligible
---
The Create! Birthparent Arts Grant is open to all birthparents no matter when they placed. Placements, however, must be final.
Amount
---
Grants will be awarded up to $500.
Application Period
---
August 1, 2023*: Application opens
August 15, 2023*: Application closes at 5PM CST
September 1, 2023: Recipient announced by 5PM CST
August 31, 2024: Project completion deadline
*Applications received outside of the application period will not be accepted.
Details
---
In the 2023 cycle, one birthparent will be chosen for the grant. The grant recipient will be chosen by a panel of On Your Feet Foundation staff and board members. The grant recipient will be expected to share updates and progress on their project and to notify On Your Feet Case Management staff upon completion of the project. Birthparents are only eligible to win one Create! grant (may not apply for a second Create! Grant if selected).
Selection is based on, but not limited to, the following criteria: 
Relevance of the birthparent's idea and contribution to the adoption community.
Quality and creativity of the work or project submitted for review. Please be as detailed as possible.
Commitment to developing their work.
The impact of the project on the adoption community.
Fund Disbursement:
Funds may be used to purchase supplies, pay a third party for work related to the project, or rent space (i.e. time in a recording studio).
Payments will be made directly from On Your Feet to the business, vendor or contractor.
Funds will not be disbursed directly to the Grant recipient.
Funds may not be used to pay already-incurred or past-due bills.
Restrictions:
This grant is specifically for a project within the arts field. Examples include writing and recording a song or piece of music, graphic art, sculpture, painting, collage, putting together a gallery showing with a focus on the birthparent experience/adoption, writing and publishing a book, dance, performance art, etc. Projects may not include starting a business, requests for business startup costs, or already incurred expenses related to a business or project.
Qualifications of Grantees
---
To qualify for a Create! Birthparent Arts Grant, at the time of application, birthparents must:
Be actively engaged in one of our programs for a minimum of 6 months or 4 events, whichever is greater:   
Case Management
Retreats (In person/Virtual)
BirthmomsConnect calls
Birthmom-to-Birthmom Mentor Program
Applicants may not be employees or board members of On Your Feet Foundation
On Your Feet Foundation reserves the right to not consider funding projects aimed at providing political, religious, or cultural commentary separate from reflections based upon the applicants racial, ethnic or gender identity, religious or political beliefs, provided the commentary does not demean or degrade others whose identities and beliefs may differ.
Applications must include a realistic project plan for completion within 12 months:
Demonstrate thoughtful consideration of financial needs and opportunities.
Seek opportunities for support available through educational institutions and other resources.
Set goals that are realistic and attainable to move continually toward project completion.
Establish a reasonable time frame and request appropriate support as needed.
Requirements
---
The Grantee must:
Complete an application within the designated time frame. Only completed applications that adhere to the grant guidelines will be considered.
Agree to share information regularly (2x/month) regarding progress on their project, as well as additional information so that On Your Feet Foundation can share the details of the project on social media and in donor communications, keep good client records, and track the outcomes of its grants.
Understand that the Create! Birthparent Arts Grant may only be awarded once to the same birthparent recipient.
Understand that failure to meet the terms of the grant, including providing regular updates to staff, may result in termination of the grant and ineligibility for future grants.
Grant On Your Feet Foundation permission to share images and information about your project on social media, in donor communications and be used when applying for funding.
Record a short video sharing details of your project and what receiving this grant means to you. This video will be used as part of On Your Feet Foundation's 20th Anniversary video montage.
How Applications Are Scored
---
A combination of On Your Feet staff and board members will assess each project using a rubric. The project that receives the highest score will be selected.
Grant Panelists will receive a copy of the rubric, which applicants may access below. The rubric will be utilized to ensure as fair and unbiased a consideration for the artists' proposal as possible. The scoring mechanism explains each of the 3 criteria scored by panelists: artistic merit, relevance/community impact, and planning and management. With each criterion, descriptions and corresponding point values are listed.
---
By clicking "APPLY" and proceeding to the application, I acknowledge that I have read the above information and agree to the terms of the grant in their entirety. I understand that if my project is selected, I will be expected to adhere to the terms of the grant and that failure to do so may result in termination of the grant.