What is the Circle of Good?
---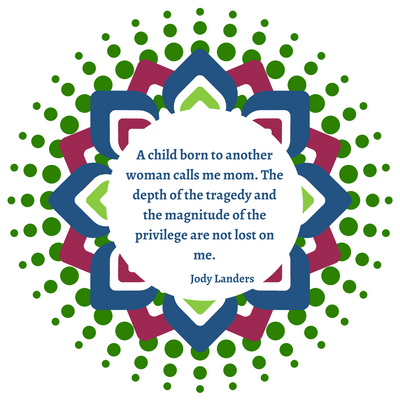 In adoption, we talk about the triad - birthparent, child, adoptive parent. At On Your Feet, when we look at the triad, what we see is how the well-being of one member of the triad directly impacts each of the other members - when your child struggles, it isn't just you who worries. It's your child's birthparent, too. When your child's birthparent struggles, you and your family are impacted.
What does this mean for you as an adoptive parent? It means that the well-being of your child's birthparent(s) matters.
Not for 3 counseling sessions.
Not for a year.
For a lifetime.
It means that choosing to place a child is a decision that has lifelong implications. A birthparent does not walk out of the hospital and move on with their life. When the hormones and adrenaline of pregnancy and childbirth dissipate, reality can come crashing down. While they may smile as they hand your child to you, it does not mean that they aren't breaking on the inside.
We don't want to think that our greatest happiness as parents is rooted in another person's trauma and loss. But we need to see that trauma. Because it is there.
To quote Hope Baker, "What is the story that you will tell your child when they ask about the day they were born?" Is it a story that you will feel good about? Is it a story that will make your child feel loved? What will you tell your child when they are 8 and start asking questions? Or 18 and find their birthparent after years of wondering if their lives began being wanted and loved? We see this tiny, innocent bundle and we think we have a blank slate, but we don't. Because, like it or not, their story will always begin with their birthparent's story.
---
Why On Your Feet Foundation?
It's simple. Because post-placement support for birthparents doesn't just help your child's birthparent. Ultimately, it helps you and your child. Because when your child's birthparent receives the support they need, they will be able to be the positive, stable presence in your child's life that you want for your child and for your family. Even if you do not have a relationship with your child's birthparent, by supporting On Your Feet Foundation, you are demonstrating to your child that you are an advocate for all birthparents; conveying the message that while their birthparent may not be in their lives right now, they are still a valued and important part of our child's story.
As the only independent, non-profit organization in the US providing comprehensive post-placement support, On Your Feet Foundation can help your child's birthparent access adoption-competent therapy, birthparent support groups, retreats and mentor programs. We can help them find stable housing, go to college and get a job. And we do it for life.
---
As an adoption community, it is on us all to come together and support birthparents. To pay it forward, if you will. Even if your support of On Your Feet Foundation today does not directly impact your child's birthparent, when they are ready to connect with us, we will be here waiting for them.
---