Holiday Assistance Program
---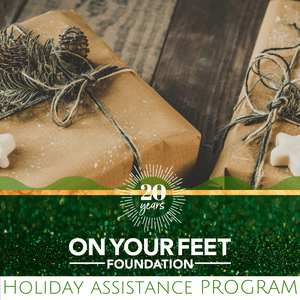 Application for Assistance
APPLICATIONS FOR THE 2023 HOLIDAY ASSISTANCE PROGRAM ARE NOW CLOSED
On Your Feet Foundation understands that the holidays can be chaotic and stressful, especially when experiencing financial hardship. We hope to ease some of the stress and worry by providing gifts for a few of On Your Feet Foundation's families, including the children you have placed.
Please fill out the application below to enable us to get all of the necessary information for your child(ren)'s holiday gifts. We hope to help make this holiday season even more special for your family!
Guidelines
---
Please read through the guidelines before completing your application. If you have any questions, please contact Jennifer Adams, Director of Case Management Services.
The applicant may receive assistance for up to 4 children, limited to $100 in total assistance per applicant ($25 per child).
Applicant will provide names and ages of children, gift ideas and mailing addresses, along with a gift message.
Applicants may apply for both children you have placed AND children you are parenting (no age limit).
If you are not parenting, you are still eligible to apply to provide a gift for children you placed (no age limit).

Applications will be accepted through Sunday, November 10th. Applications received after November 10th will not be considered.

Complete the application in its entirety. Incomplete applications will not be considered.
US Continental addresses only; applications from outside of the continental US will be accepted, but we cannot guarantee that those requests can be fulfilled.
Gifts will be mailed directly to the recipient. Please make sure that all addresses provided accept deliveries from Amazon. On Your Feet cannot be responsible for failed deliveries/returned packages due to incorrect or incomplete addresses, stolen or misplaced packages or missed deliveries. We will do our best to update you on expected delivery dates.
Gifts will not be wrapped.
We will make every effort to ensure that gifts arrive in time for the holidays, but are unable to make any guarantees.
Priority consideration is given to applicants who are actively engaged in On Your Feet programs. Please be specific in your application.
A member of On Your Feet's Case Management staff may reach out to you to assess need and involvement with On Your Feet's programs. This interview is mandatory for consideration.
Recipients who received assistance through our Holiday Assistance Program in the past are eligible to apply, but will be considered after all new applicants.
Assistance is based on financial need and preference is given to candidates who have not received a Holiday Assistance grant in the past. If an individual has been awarded $300 or more in holiday assistance from On Your Feet Foundation, the birthparent will not be eligible for the program (unless their financial situation has drastically changed since last awarded the assistance - loss of income, loss of spouse, etc.). Grant applications will be reviewed by case managers (with collaboration and guidance from the Executive Director) and applicants will be contacted by a case manager by December 1st with any questions and to notify them of selection. Priority will be given to those actively engaged in On Your Feet services.
Participants in the Holiday Assistance Program will be expected to complete an evaluation after the gifts have been sent. Non-identifying portions of applications may be used in marketing materials and on social media.
Holiday Assistance Program Application
---