Adoption Professionals Networking Meetings
---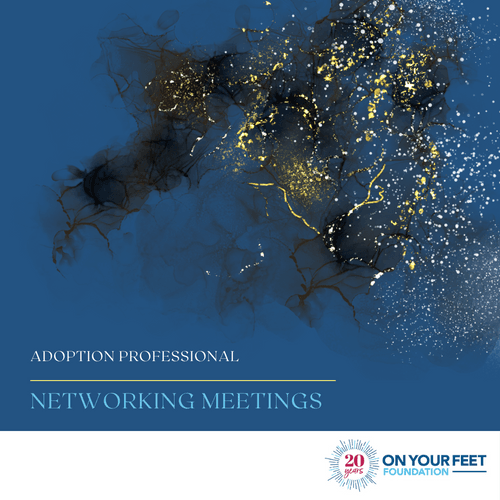 On Your Feet Foundation's Adoption Professional Networking Meetings are an opportunity for adoption professionals to work together, share new programs, brainstorm solutions to challenging cases, and discuss best practices for serving the Adoption Community. All meetings are held via Zoom and professionals nationwide are welcome to attend based on eligibility per the criteria listed below.
Non-Agency Adoption Professionals Networking Meetings
---
Due to demand, this group meets quarterly. Co-hosted with Adoption Mosaic, the Non-Agency Adoption Professionals Networking Group is made up of individuals who are interested in coming together in community to improve experiences and outcomes in adoption through contemplative discussions, resource sharing, adoption education and advocacy for ethical practices in adoption. This group is intended as a way to provide support to one another and work together as a team in the adoption community.
Non-Agency Adoption Professionals are individuals who provide on-going support to members of the adoption constellation outside of an agency or attorney setting and are not involved in facilitating adoptions.
Birthparent Support Alliance (BSA) Member Meetings
---
All members of the Birthparent Support Alliance are invited to join all regular Networking meetings, as well as 1-2 meetings annually that are dedicated to BSA members.
Adoption Professional Networking Meetings
---
Held 1-2 times annually and open to all adoption professionals across the US and Canada. Topics vary and professionals are welcome to bring issues/challenging cases to the group in order to seek resources, ideas and ethical solutions.
---
2023 Meeting Dates
---
Non-Agency Adoption Professionals Networking Group Quarterly Meetings:
TBA
Birthparent Support Alliance Members/Invitation Only Meetings:
April 20 | August 9
All Agency/Adoption Professionals Meeting (BSA included):
October 19