Design our New Swag!
---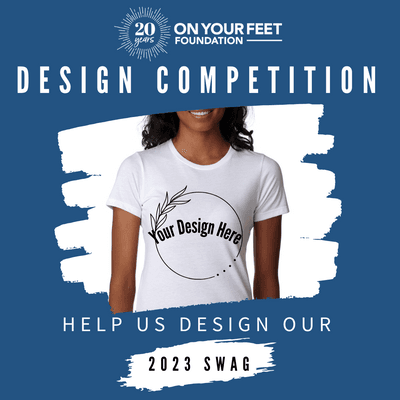 Submit your design for On Your Feet's 2023 Swag! Winner(s) will receive a $25 Visa Gift Card and the winning design will be used as a t-shirt fundraiser for On Your Feet.
---
SUBMISSION RULES
Only three (3) design submissions per person are allowed.
If you are under the age of 18, your design must be submitted by a parent or guardian on your behalf.  
All designs must be original creations of the contestant.
Submissions must not have been previously published and must not contain profanity, trademarks, other organization's logos, or any copyrighted works of any other person or business.
Submissions must be respectful.
Design(s) must be submitted in .pdf or .jpeg format by completing the form and attaching the file below. Submissions must be received by 11:59pm (CST) on March 31st, 2023.
Designs can be created in either Adobe (InDesign, Illustrator, Photoshop), Canva, or CorelDRAW. As well, designs can be drawn and scanned or a picture can be taken and submitted and On Your Feet will recreate the image into a digital format.
Winning designer agrees to sign a waiver to allow ON Your Feet Foundation the use of their design, free of charge, for any and all printing and promotional purposes.
Winner(s) must agree to submit a high-resolution layered vector art file within 5 days of notification and agree to work with the printer if slight changes/modifications are necessary for production. If not, an alternate winner may be chosen due to meet the production deadline.
By submitting an entry, you are agreeing to all contest rules. If you have any questions, please email alexis(at)onyourfeetmidwest.org.
---
DESIGN REQUIREMENTS
Designs should be able to be printed in no more than 2 colors.
Designs must be created in either Adobe (InDesign, Illustrator, Photoshop), Canva, or CorelDRAW.
Designs must be original
Designs should incorporate one or more of the following colors:
Pink (#BB2253), Dark Blue (#00548B), Light Blue (#57C1E8),
Dark Green (#369040) or Light Green (#95D600) or White (#FFFFFF)
---
EVALUATION CRITERIA
Entries will be evaluated as follows:
Concept and originality of design
Visibility from a reasonable distance
Adherence to design and submission rules and guidelines
Adherence to On Your Feet Foundation's branding guidelines, including logo usage, and colors
Successfully capturing the spirit and mission of On Your Feet Foundation
Totality of design and production readiness
---