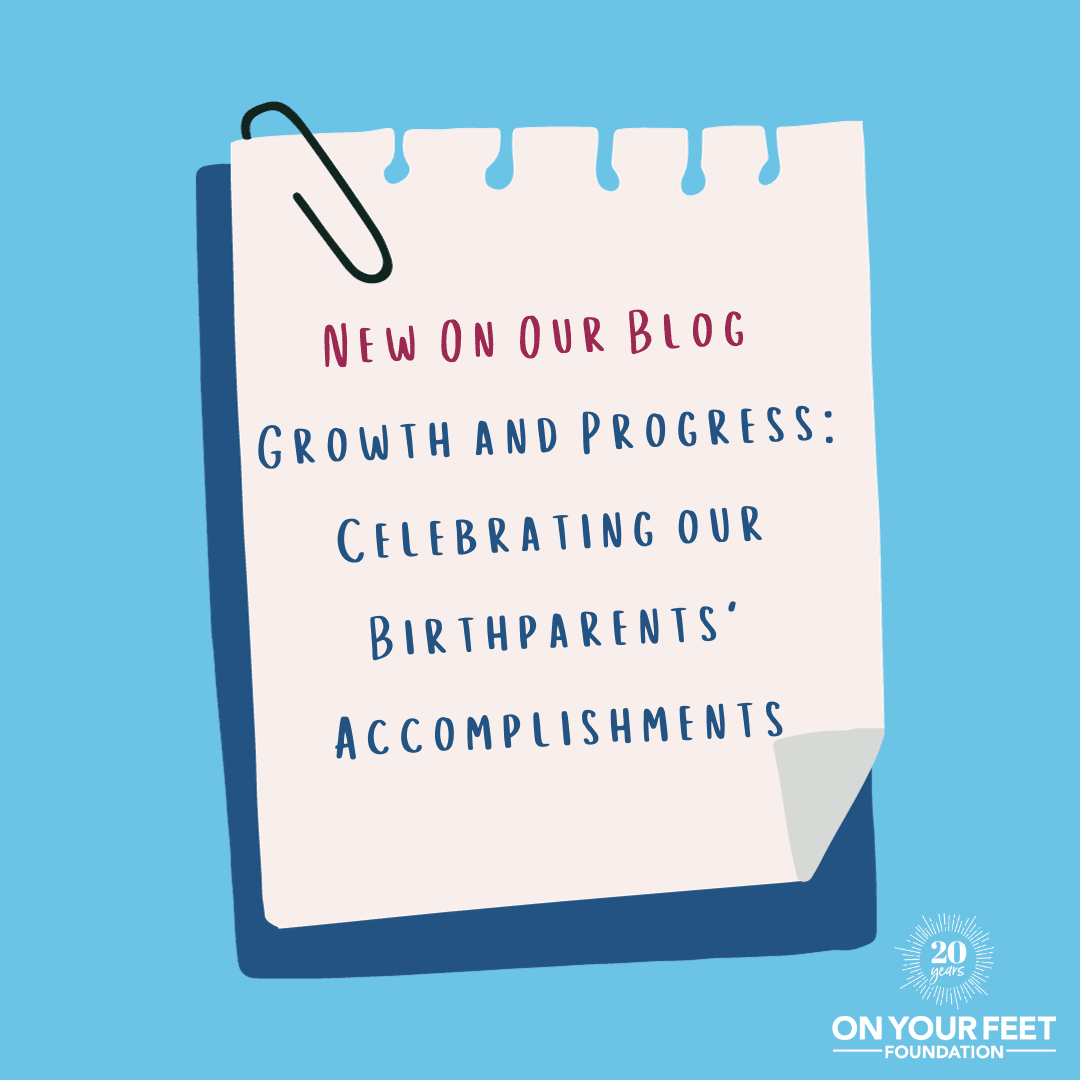 My colleague and I were asked to share positive stories or noted progress/growth of birthparents who are involved in our case management program. My first thought was, I am pretty sure we have shared most of those stories already - the stories of connecting women with adoption competent therapists, how we've helped someone with their résumé and interviewing skills who then landed a new job, how we've supported another mom as she works on building her communication skills so she can advocate for more visits with her child's adoptive parents and how we have helped build so many connections between the birthparents involved in our community through our retreats, events and facebook groups. What more is there to share?
Well, after I hung up with a birthparent recently, I realized how much more progress we have actually seen and how much more we had to share. It wasn't until after the phone call ended, I sat back for a moment and reflected on the conversation. Her tone had changed since I began speaking with her almost 11 months ago. Did she share a few things that she's discontent with? Absolutely. However, when expressing her discontent, she managed to keep things in perspective. She laughed in the conversation and was able to find a little glimmer of gratefulness in her life. These are all things that over a year ago she didn't, maybe couldn't do. The progress she has made in how she views her world and how she is gracefully handling challenging situations is SIGNIFICANT. And, sadly I didn't recognize this until after the call ended and even more sadly, I don't even think she recognizes these changes in herself - something which I have made a note to point out to her next time we speak.
In our work, defining "growth" and "progress" might involve thinking outside of the box. Sometimes the growth is so small or maybe even uncomfortable to address, that some may not even see the growth in themselves. But, if we can all take a minute and sit back and reflect on what it means to grow, recognizing that even small steps to meeting goals or making what we feel is just a smidge of progress in our journey (even if some of the stories sound the same) should all be CELEBRATED AND SHARED!
So, let's sit back and reflect on all the changes that we have witnessed over the past year in our birthparent community and celebrate all the things. From tiny steps, to significant changes, to progress you might not even see in yourselves. We see it and you should too!
So, cheers to the birthparent …
… who has shed less tears when talking about her child's placement and has started advocating for herself and others.
… who sent a constructive email to the adoption agency asking for a plan instead of sending a reactionary email when receiving disappointing news.
… who sees the value in both herself and her work by stepping away from a project that is causing more stress than joy.
… who is advocating for boundaries for herself when it comes to her relationship with her child's adoptive family.
We are so proud of our birthparents who have …
… made connections on our Facebook group by being vulnerable and sharing stories, building each other up and providing empathy to one another.
… worked up the courage to join our BirthmomsToday Cohort and are putting in the hard work.
… reached out for support instead of retreating back into a dark space.
Congratulations to the birthparent who …
… was able to get on camera during a BirthmomsConnect Call. We loved seeing your beautiful face.
... took steps to stop feeling alone and became friends with other birthparents she met in our Friends group.
… conquered her fear of traveling on public transportation so she could get to a retreat.
... was able to open up and discuss the shame they feel about placing.
... has acknowledged that maybe they do have some work to do on their communication skills.
… has stopped herself from texting her child repeatedly (even though she desperately wants to hear from them) and allowing her child to drive their newly reunited relationship.
We see all of you and YOU ARE MAGNIFICENT!
---
We are so proud of the work our Case Management team does on behalf of the birthparents - both birthmothers and birthfathers - that we serve, and we are equally proud of our birthparents, who are doing the hard work of healing. Are you a birthparent who could benefit from help? Our case management services are birthparent-directed, and built around your unique needs. There is no charge to birthparents seeking our help. Case Managers work with birthparents to support them by identifying needs; linking to community resources and providers; creating a plan of action; and monitoring progress on their plan, ensuring needs are being met. Get in touch and start getting the support you deserve - there is no charge to your for our services.
Want to help us make sure every birthparent has access to everything they need to heal, for their lifetime? Donors like you can help connect birthparents with the support and resources they deserve.