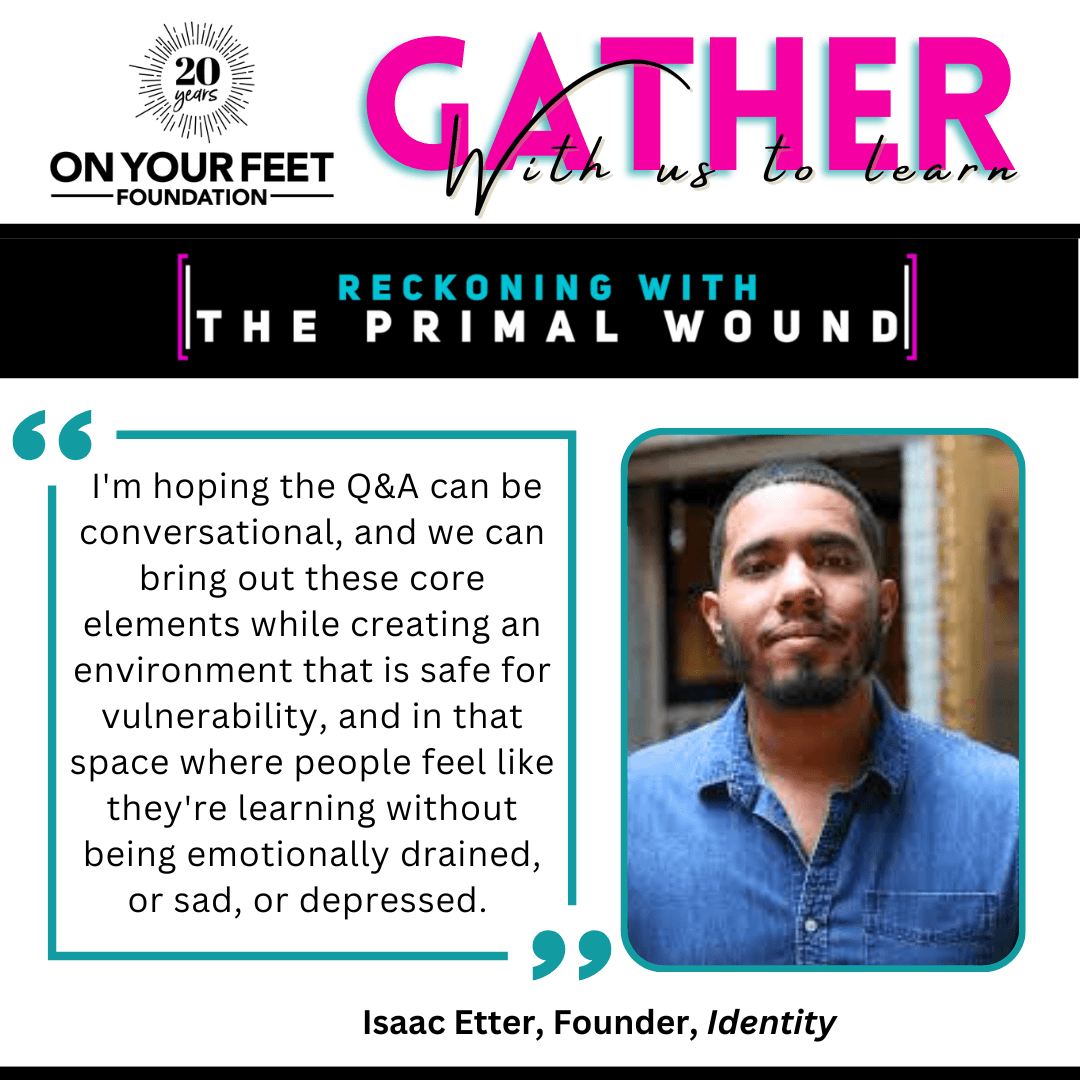 Isaac Etter is a familiar face to many of you - he has been one of our most-requested Activism in Adoption speakers, and currently Isaac is the CEO and founder of Identity, a startup focused on using technology to help adoptive and foster parents thrive. He is also the founder and principle consultant at Etter Consulting a small business strategy agency. Isaac has focused his time towards two areas that bring him immense joy which are innovating the adoption and foster care field and helping people start companies, and today, we are honored to have had the chance to sit down and catch up before he arrives in Chicago this weekend, to co-host a Q&A after our screening of Reckoning With The Primal Wound, along with filmmaker Autumn Sansom.
---
The last time we spoke, you had founded Etter Consulting, an adoption consultancy. Now you have a new company?
Yes, I do – Identity. It builds on what I started at Etter Consulting, which was all transracial adoption consulting, using my own story as a catalyst to educate. Identity is the evolution of that work, building resources that families can use for the duration of their adoption journey. We are building community, which is one element, and we also provide practical guides to help families on every step of their journey, by giving them something tangible they can refer back to at each step in their journey. For me, that's what its all about, creating these phenomenal resources and pulling together amazing talent for it.
Terria Roushun, who is in Chicago, wrote our black hair care guide - A Practical Guide to Black Hair Care - and Anna Koehle is writing a practical guide to adopting after infertility, which I think is going to be a beautiful piece of work because it touches every single part of adoption. I feel like this is so prevalent, but there are not nearly enough resources around it. And then Amy Reamer, a fantastic therapist and adoptive mother, is writing a guide to trauma-informed parenting, that we call Heart and Mind Parenting. She's just been pouring her soul into working with families and helping parents and adoptees through their journey of understanding adoptee psychology and bonding. Her work has been something that's been really informative and inspirational for me, and we've gotten the chance to work with her multiple times now. I'm really excited for how we're taking that seed that was Etter Consulting, and turning it into something that agencies, families and communities can use.
What is the community part of Identity?
The community is an online space for adoptive or foster parents to connect, get access to our webinars, get our practical guides, and to have the opportunity to go deeper in their learning.
We are also in the middle of a pivot. I haven't formally announced this yet, but we are starting to focus Identity as a media-focused company. I have a documentary coming out at the end of September, and I also have a podcast, with my mom. We are doing a monthly show where we sit down and really talk about our own journeys – hers, as being an adoptive mom, mine being adopted, and then our family dynamics.
And then we're doing another show called Let's Talk adoption, which is more with adoption professionals around the country. And we'll be putting exclusive footage behind the scenes stuff, Q&A, with the people that we interview all into the community, that people who just listened to the podcast won't necessarily have access to.
Is your podcast out yet?
Not yet. We started with video interviews online, including one with [On Your Feet Foundation Executive Director] Alexis, but ended up not releasing those, because we realized we wanted to go a different way – get away from just interviewing people online – and now we are flying out to our guests, getting down to the people. We want to do all in-person interviews, but grouping them in ways that are being mindful of the environment while doing something really meaningful.
We do a roundup of birthparent and adoptee adoption podcasts every other month, and they are an incredible. But yours, with your mom – is there anything else like that out there?
I'm really excited about me and my mom's show, because I think that we'll be able to add this layer in there that doesn't get talked about enough, which is that we don't have enough adoptee and parent adoptee podcasts. We have a lot of just adopted parent content; podcasts. But we don't have a lot of podcasts where it's the adoptee and their adoptive mom both talking about their struggles and issues. We've had so many bonding issues, so many other issues. Whether it's race, which I talked about in my Activism in Adoption talk, or our other issues, I think one of the things that's going to be beautiful about our dynamic is being able to kind of weave that in and out while also getting to the point that we're still obviously a family - we're still obviously close. I think that, to me, is something that I wish we saw more of; not necessarily the beautiful story, and you'll love it, but some of the real and raw truth. Like, my mom was on the podcast Creating a Family and she was talking about a time that she thought I was another black person, and was scared. We don't hear things like that - an adoptive mom saying that - but that is such an important thing for us to say out loud.
I'm really excited about it. I think it's going to be really interesting. And I'm just excited because I think my mom has just gotten so good at talking about her real experience and I'm really excited to just see other people benefit from that.
And then in all your free time, you also made a documentary?
Just, you know, a little afternoon activity. But seriously, yes - this Sunday is the last day of shooting. It is a four-part Docu-series that is going to cover what it was like growing up in my family dynamic. And so it's going to talk about the struggle, the hardships and growing up - some of the stuff that I've been presenting on. But then there's also going to be an interview with my mom and my dad and his sister to throw these kinds of parallel perspectives in there, and we'll kind of get a chance to again, get that full picture. Here's how Isaac was struggling, here, and here's how mom and dad were trying to bond with him, or trying to know what to do about his hair, and we get this chance to see some of this real authentic vulnerability. And then the second piece will be more around racial identity, so we'll get that deep into some of the transracial adoption stuff. I'll talk about living in Atlanta - we had to get into Atlanta to shoot the episode. We shot it on the deck of the house I lived in, in Atlanta. It was just really cool to be able to do that. The third episode is all about the transition from just an adoptee who's trying to figure it out to going into parenthood, and it talks a ton about forgiving birth parents, forgiving adoptive parents, and the process of working through my story and working over these feelings of abandonment and rejection, and my own genuine journey of getting to the point of releasing the anger while raising all those feelings. Episode four will be more focused on identity, including what we want to create in the world when it comes to adoptive parents, and the world that we want to see for adoptees.
I'm very excited. I am really grateful to On Your Feet Foundation, and the other organizations that have supported me talking about my journey and helped me get to this point. To me, the documentary really feels like a chapter closing, because over the last few years, I've been telling my story, but with this documentary I have the chance to tell that story from different angles, with new perspectives, and it will be on YouTube, so it will be free to watch.
You are doing a Q&A with Autumn Sansom after we screen her movie on September 9th, 2023 – what did you think of her movie, Reckoning With The Primal Wound?
I've seen this film a couple of times, and I would say it's a little bit of a heavier film; it has light elements, but it's a heavier film. What I'm hoping that we can do through the q&a section is bring down some of these really core themes that they talked about in the movie, like the name change, and how her adoptive family handled keeping a box of things for her from her birthfamily. I'm hoping the Q&A can be conversational, and we can bring out these core elements while creating an environment that is safe for vulnerability, and in that space where people feel like they're learning without being emotionally drained or sad, or depressed. But really, I want people to walk out of the film feeling like okay, But also, let's dive into why an adoptee might feel connected to a name they were given before they were adopted, and what happens to them when they discover that name much later. These are elements that we don't necessarily talk about in adoption.
Was there anything that surprised you in the film?
Yeah. I think I was surprised at how much I was affected by the movie to be honest. I had these kind of moments of laughter but also these emotionally heavy elements. And for me, it's that kind of lifelong effect of adoption, that kind of got brought up again when I watched it, as you see Autumn go from discovering all these things about her life, to the complications with family, to the complications with connecting with her birth mother. And then, in a sense, I kind of go back to my own journey where I wanted to connect with my birth story; my origins. There were parts of it that were actually a little bit difficult to see portrayed.
There's been some pushback on the idea of the Primal wound. What is your take on it?
You know, it's unfortunate because even if you don't agree 100% with it, it's an important theory to discuss, just due to how much data we have on the experiences. There is so much peer reviewed research and quantitative work on how adoptees are far over-represented in mental health systems and a lot of very negative outcomes for adopted people , that I don't understand how some people do not believe in the primal wound as a concept. Look at the addiction statistics for adopted people. I think it's like one in six people in prison are adopted.
Where do they think the documented bad outcomes for adoptees are coming from? Like, just real bad luck?
There are a lot of people who have very skewed perspectives on adoption, and it isn't just the adoption is beautiful narrative, but also in how talk about birthmothers happens, and how placing a child for adoption is recast as a heroic act. And for adoptive parents, it's about how they want to be parents, and it's often described in terms of service delivery. One person didn't want something, and another person got something. For a lot of people, that's adoption, and the child that should be at the center of it all, isn't.
I think it's actually empowering to look at it head on, and take an adoptive parent through a process where they easily understand the challenges that their child may have, and here's how we're going to support you throughout your journey, and make sure that when these hurdles come up, your child is getting the attention, validation, and encouragement they need to not go down a path that they may go down, because we know that historically without this kind of support and education for adoptive parents we are seeing these grim statistics. I would hope that we get to a place where adoptive parents can know that their child may struggle more with self worth, self value, and love, which could drive them to do these things.
We got into some very heavy topics in this interview, so let's end on a lighter note: this is your first time in Chicago - what are you looking forward to doing while you are here?
Well, one I'm just so excited to hang out with you all, and with Autumn, whom I've never met in person, and Torie, who I know is working with you all, and Lanise Shelly is there, who does the When They Young podcast. I am going to check out the food, so obviously Chicago pizza, and Saba, the Mediterranean restaurant. I'm a big Mediterranean food guy. I'm excited to eat and to hang out and to connect with my families and just be there, and have fun.
---
Tickets to our Reckoning With The Primal Wound screening, which includes a Q&A afterward with Isaac, along with RWTPW filmmaker Autumn Sansom, are still available. To learn more about Isaac and his work, you can find him here. He has been the guest on many podcasts, including Once Upon a Time ... In Adopteeland, When They Were Young, Talkin' Solutions, and Thriving Adoptees - Healing, Inspiration & Empowerment For Adoptees.