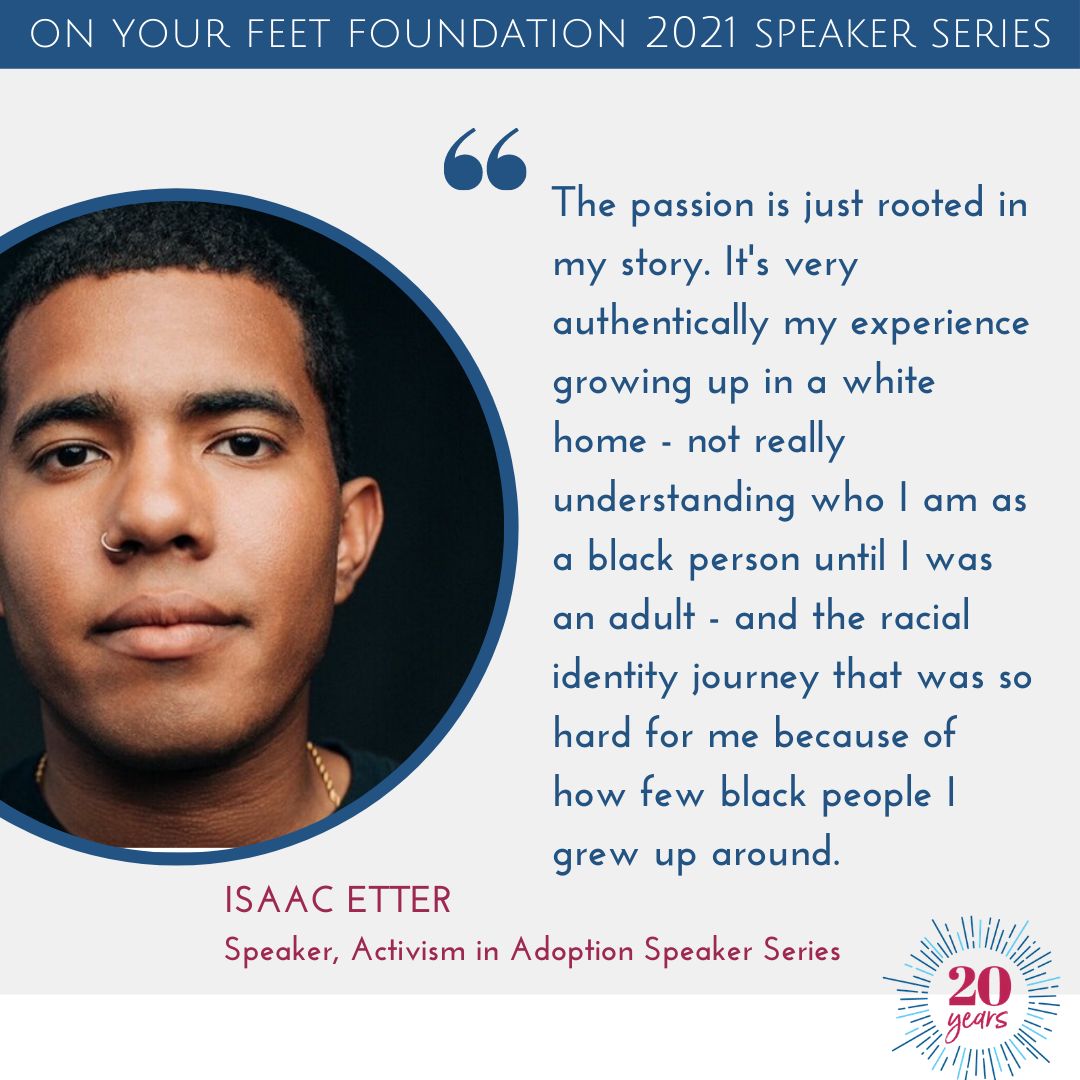 We are honored to welcome Isaac Etter as our February Activism in Adoption speaker. Transracial adoptee Isaac Etter is an activist and social entrepreneur, and the founder of Etter Consulting, whose mission is to provide trainings and services for adoption agencies that help prepare foster and adoptive parents for transracial adoption and fostering so that children are going into educated and inclusive homes. He agreed to sit down with us this week to do a Five Questions interview, and his answers were so good we didn't want to edit any of it, so this is going to be a two-parter. This is part one, and part two will be posted on Monday, February 1st.
What drew you to the work that you do and what makes meaningful to you?
I started doing activism work when I was around eighteen, and that racial identity journey as an adoptee really led me to having a heart for racial justice work. It wasn't until about three years later that I was doing a talk for an agency - they asked me to come in because they knew I was a local activist and they knew I was adopted -  so they asked me to just come and talk about it;  just like what it was like for me to grow up in a white home. After continually asking me to come back every month (because I was just volunteering and doing it),  it became so evident that parents were getting so much out of it, and even the social worker that I'd been working with, who had been bringing me in, was like,  I think this is something that maybe you should do, like, as a job, not so much as like a volunteer, and so with her encouragement, and trying to figure out how would I package this, I put together Etter Consulting and launched it in in 2019, and that's really how I ended up here.
The passion is just rooted in my story. It's very authentically my experience growing up in a white home -  not really understanding who I am as a black person until I was an adult - and the racial identity journey that was so hard for me because of how few black people I grew up around. The work is driven by the fact that I want families that are adopting to be educated and equipped to actually help lovingly and successfully guide their children of a different race through their racial identity journey
What is one thing that white potential adoptive parents should do before they adopt a non-white child?
I think that that some of the biggest things that people can tangibly do are reading, community switch up, and just actively hearing transracial adoption perspectives. There's a lot of really great transracial adoptees that run educational Instagrams and websites on transracial adopted experiences [such as]  I am adopted  (Jessenia Palmer) and another is heyTRA  (Hannah Matthews) that really talk about how differently transracial adoptees have experienced the world, and what they wish was different, and I think taking that information to heart, and really being open to hearing not only how fragility showed up in those adoptees parents' homes but how it could also show up in your home in the future, and really preparing to overcome that could make a big change in what happens when those moments actually rise.  
I'd say it's an education journey; it's a community journey. I always say, there's an NAACP in [nearly] every city and so chances are, an NAACP has a monthly event - whether it's virtual or whether it's in person -  that's an easy place for you to start going to, start getting your name shown around, trying to start meet people, or organizations like Black Lives Matter chapters - those are just easy places for you to start this community building, to just see what happens, see what you learn, and see what you hear, see what kind of friends you make. You could meet somebody that changes your whole life and becomes your best friend, all because you decided to step out of the bubble. I would suggest that people who aren't adopting, to be honest, but I think it's even more so important for people that are.
For white parents who already have Black kids, what can they do right now to show up for those kids?
Change up community. Community that reflects your child is always the number one suggestion that I give. It's hard because we all really love our comfort zones whether we're going to the same church for 20 years, or whether we've had the same friend group for 10-20 years, it can be really hard to change up our patterns, but sometimes I think if your circle is limited in their viewpoint and your circle doesn't reflect your child at all, eventually that's going to show up as in,  I can remember that my parents didn't have any black friends, and, I can remember how awkward it was for me to be around black people when I met them later in life, because I just never spent any time around black people. And so having community that reflects your child gives them a way to see themselves and see kind of like oh I'm not other -  I'm just a normal person and it also gives parents perspective on new things and, depending on the relationship, a very good person to go to when conversations may arise that you may not feel equipped for, you know, especially when we're looking at things that happened this past summer like George Floyd, Ahmaud Arbery,  Breonna Taylor.
Those are conversations that probably every white parent didn't feel equipped to have, and not having anybody in your friend group that could help you facilitate that conversation with your adoptee makes it a rough process for them as well, because if your child is I think probably above 10, and had access to the Internet, they probably heard about it, and so it's important to be having these conversations early and throughout their lives, and having community that reflects your child, reflects the journey that your child is going on in life, helps bridge that conversation, and it helps them form a solid identity.
Come back on Monday, February 1st, for the second part of this interview, where we talk about how white parents can support their Black and Brown kids' activism journeys, and about the questions he wishes parents would ask. Tickets are now available for Isaac's talk on February 21st.