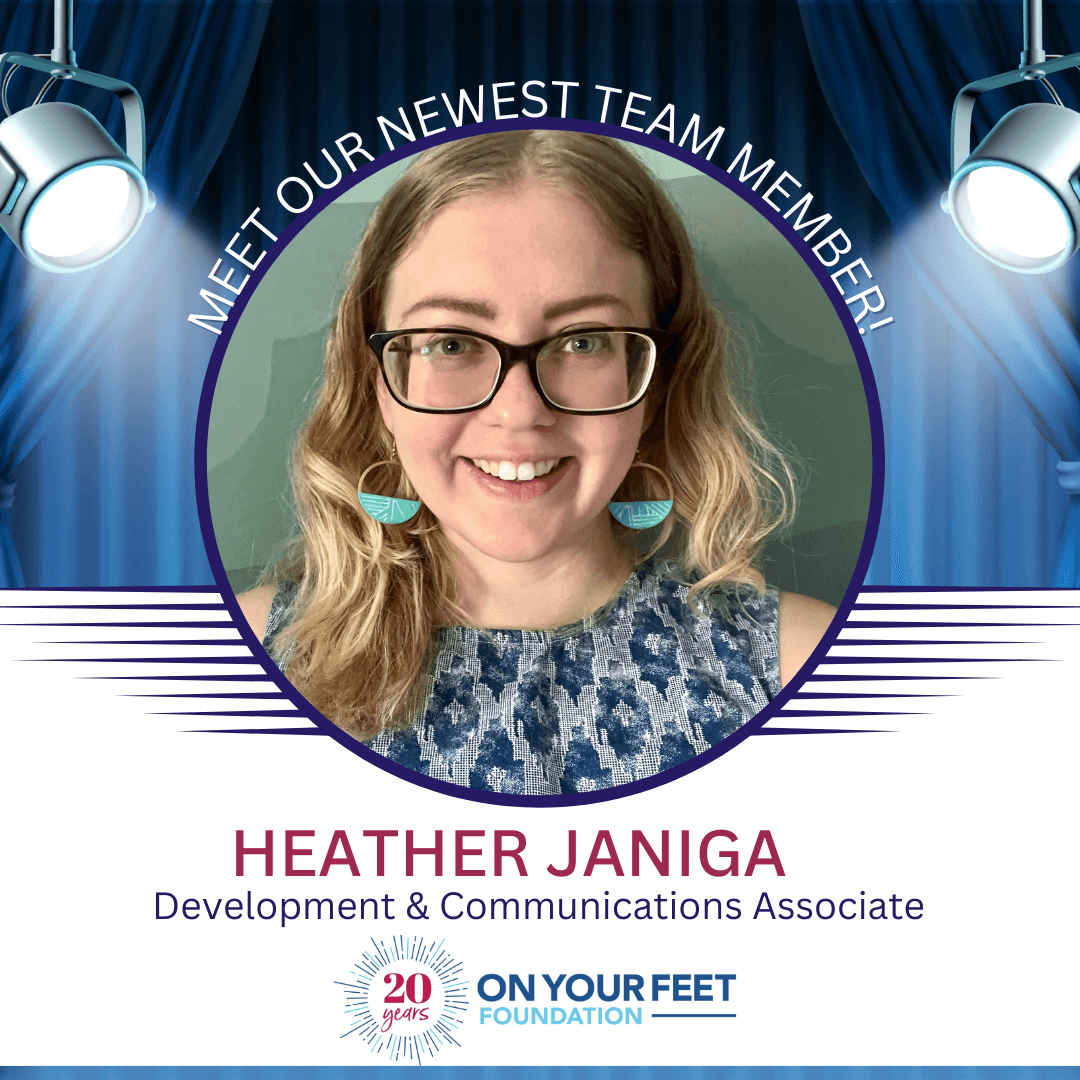 We are thrilled to welcome our newest team member, Heather Janiga. A lifelong Illinoisan, Heather earned a Bachelor's degree in advertising from North Park University's School of Business and Nonprofit Management and completed several nonprofit certifications in the years since. Prior to joining On Your Feet Foundation, Heather served as a community-minded professional in Chicago-area small businesses and municipalities, while volunteering for local nonprofits, including OYFF from 2015 to 2017.
We thought it might be fun to give our community a chance to get to know her a little better, and she was game to answer our questions, so without further ado, meet Heather:
What is your connection to adoption?
While I am not personally in the adoption triad, I believe we all have a connection to adoption. We all know someone in the adoption community, whether it is a birthparent, adoptive parent, or adoptee.
Before joining OYFF what was the most unusual or interesting job you've ever had? What made it so interesting?
The most unusual job I've ever had was replacing watch batteries at the mall, though I never actually made it onto payroll. My friend worked there and told me to "train" with her for a couple of hours. It wasn't very fun and I may have broken a watch? Oops! As far as interesting, I worked for a handful of small businesses in Evanston which led me to meet all kinds of people, including the *occasional* celebrity.
What brought you to OYFF/made you want to work with birthparents?
I've been familiar with On Your Feet Foundation since 2015, thanks to our organization's Executive Director, Alexis. I volunteered with OYFF for a couple years after that, writing and distributing press releases. I'd been interested in transitioning into a nonprofit role for quite some time and was very excited to learn about the Development opportunity that became available.
I'm interested in working with birthparents because they deserve the care and resources they need to heal post-placement. We're the only organization in the United States to offer this kind of comprehensive care. While I don't work directly with birthparents day-to-day, my role helps our organization obtain - and maintain - the funding that will allow us to keep doing this important work.
What are you looking forward to most about your new job?
I'm looking forward to making a difference in the adoption community while learning new things and meeting new people.
What might someone be surprised to learn about you?
People seem surprised when they learn about my taste in music. I pretty much exclusively listen to two genres: the same post-grunge rock music I listened to in 8th grade, and 90's alternative rock. No Swifties in this house, though occasionally I'll toss on some Fearless.
When you aren't working, what is your favorite way to relax?
I absolutely love to read! I have a stack of 16 books on my bookshelf and an ongoing list of books that I'm trying not to buy before I finish at least 8 of those. (Spoiler: I will end up buying more. Probably before the week is over.)
If you could have dinner with anyone, living or dead, who would it be? Why?
My grandpa. He passed away a few years ago and I think about him all the time. He always made me laugh, and I'm not even sure it was always intentional.
What is the last show you binge-watched? What is the next one going to be?
Currently, I'm binge-watching Suits. I have 6 more seasons to go. Before that, I watched Better Call Saul. I'm not sure what's next!
What is the last thing that made you laugh?
This morning I asked my husband if he saw the spider in the bathroom. He didn't.
Who inspires you? Why?
I find inspiration everywhere. Family, friends, coworkers, animals, people I meet on the street, people I'll never meet at all but read articles about. I am inspired by things. New innovations. Ideas. Nature. Music. Art. I believe we can all find inspiration anywhere, we just have to pay attention. Use our five senses.
---
Join us in welcoming Heather to our community! She has hit the ground running, helping us make our annual fundraiser, Gather!, a success, handling our weekly newsletter and press releases, and keeping us on track while we raise the funds necessary to ensure that every birthparent has access to the support and services they need, whenever they need them, and for as long as they need them.