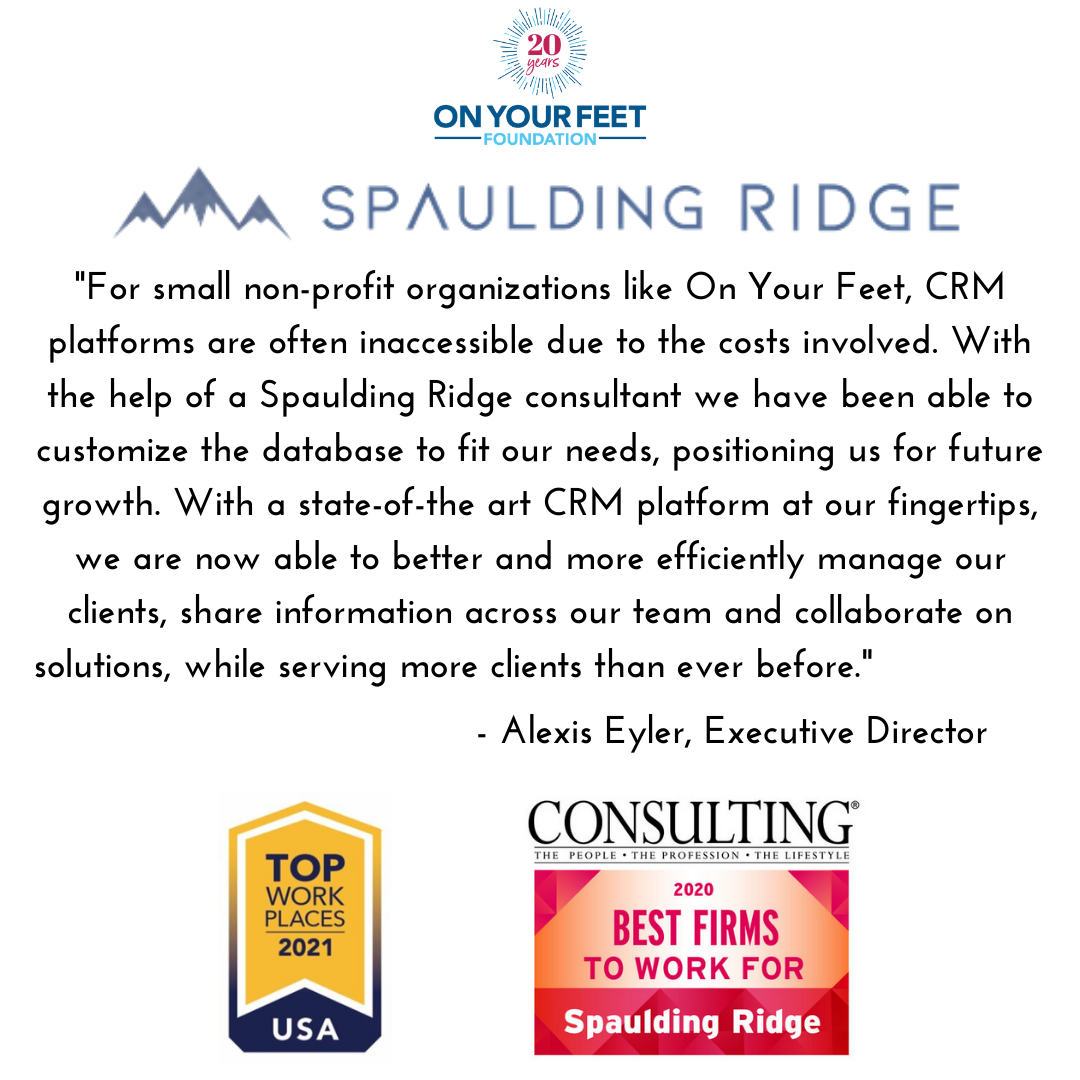 We knew we needed help. Our staff was expanding to meet the needs of our growing client base, and we needed a database platform specifically tailored to our case management and retreat needs. That's when Brandon Argianas, a Salesforce Analyst at Spaulding Ridge, spotted our cry for help on Taproot and reached out. Spaulding Ridge is a leading advisory and technology implementation firm, and community investment is one of their core values, something that we have had the opportunity to witness first-hand over the last seven months. When Brandon first connected with us through Taproot, he let us know that we were eligible for Salesforce.org's licensing program, which grants non-profits up to ten licenses, saving us the licensing cost of a new database.
Salesforce granted us the licenses, but we also needed their database platform customized to fit our needs for managing client information. Luckily for us, Brandon took us on as a volunteer project as part of his work with Spaulding Ridge, sharing his expertise and customizing Salesforce to work for us, a months' long project that included adding a time-tracking platform for our staff, providing extensive training, documentation and support, and guiding us through the entire process from idea to implementation.
After all of his hard work and dedication to this project, which included assistance from another Spaulding Ridge analyst, Lewis Mackie, to help with data import, we are now able to start using Salesforce to consolidate and manage our caseload, streamlining our workload and freeing up time better spent on advancing our mission of birthparent support. On Your Feet Foundation was the first organization dedicated to providing post-placement services to birthparents who have placed their child for adoption, and over the past twenty years, we have continued to be one of the only organizations dedicated to providing comprehensive case management services, including grants for adoption-competent counseling, tuition, and emergency rent assistance, as well as running birthmom-facilitated retreats and support groups for birthmoms residing in the US and beyond.
We are tremendously grateful to Brandon Argianas, for his generosity in sharing both his time and expertise over the past seven months, in order to help us continue to support birthparents in need, and we are equally grateful to Spaulding Ridge, a leader in community giving and development, for their support of this project.