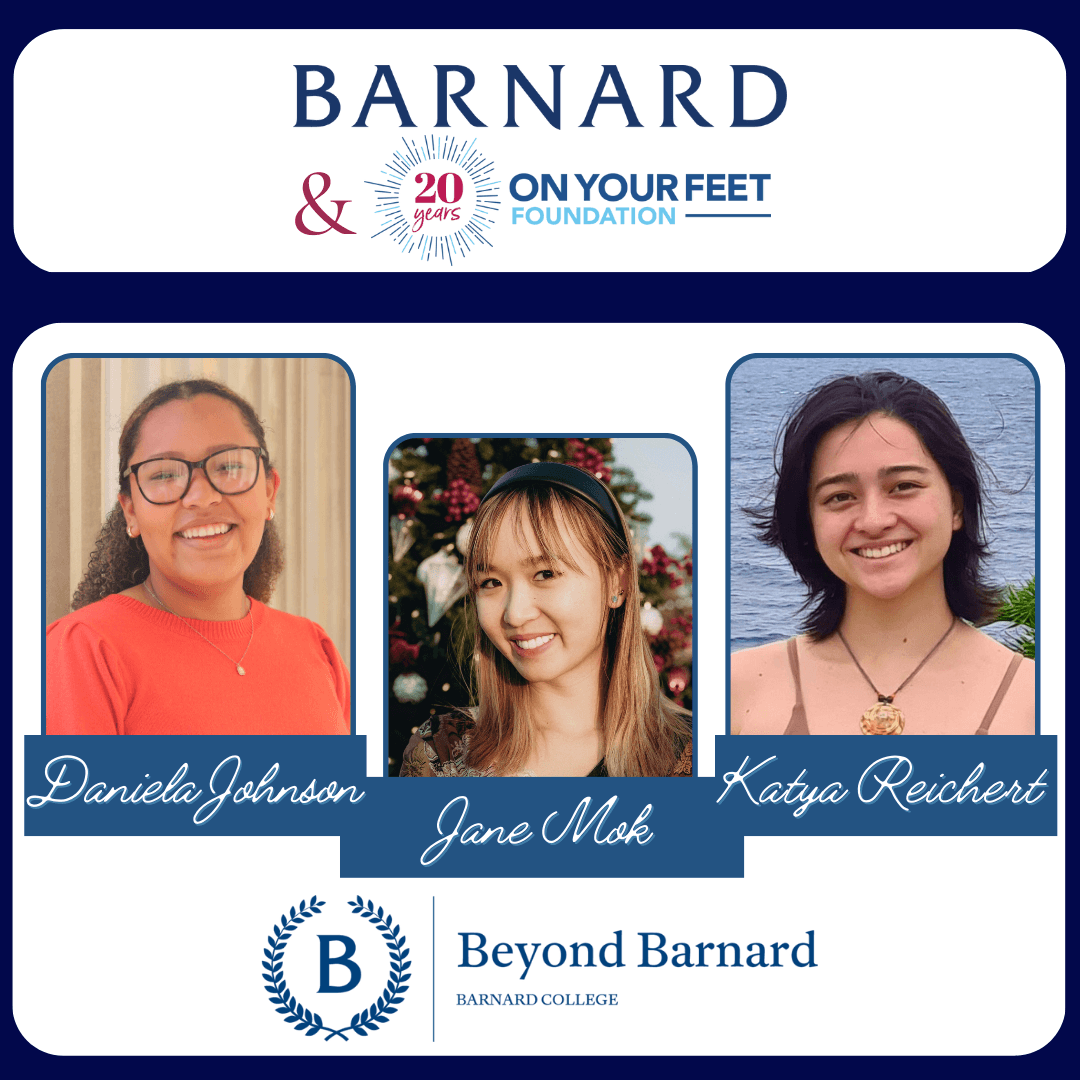 On Your Feet Foundation is so pleased to be part of Barnard College's Beyond Mentoring Internship program, a short-term virtual internship that takes place over the course of 2-4 weeks. Beyond Mentoring creates opportunities for Barnard undergraduates to connect with alumnae and friends of Barnard while applying their talent and skill to solve real world problems, help move projects forward, and provide a strong start for organizations like ours in the New Year, and we could not be more grateful to both Barnard College, and our Beyond Barnard cohort this year, whose work is helping us continue to provide the comprehensive support and community birthparents deserve. Because of them, we will have more content ready for Activism in Adoption, help promoting the excellent education AiA provides to the entire adoption constellation, and will be able to provide our best-selling birthmother journal, Grow, Flower, & Flourish, in Spanish.
As a college for women, Barnard embraces its responsibility to address issues of gender in all of their complexity and urgency and to help students achieve the personal strength that will enable them to meet the challenges they will encounter throughout their lives, and it is profoundly meaningful to us that we have the help of some of Barnard's best students as we work to provide the support and structure necessary to help birthmothers heal.
Without further ado, and in no particular order, we'd like to introduce you to the incredible undergraduates who are spending their winter break lending us their talent and expertise.
Daniela Johnson is a sophomore at Barnard College majoring in American Studies and minoring in Spanish and Latin American Studies. When she isn't studying, you can find her walking through Central Park or at her favorite coffee shop! After graduation, she hopes to take a few years to travel and work abroad before going to law school. [LinkedIn]
Jane Mok is a senior at Barnard College, majoring in Cognitive Science with a minor in Computer Science. At school you can find her at Columbia University's Zuckerman Institute doing research on the patterns of curiosity in human behavior at Dr. Daphna Shohamy's lab. When she isn't coding or reading research papers, you can find her freelancing as a videography and photography creative. Besides working at Columbia's film photography darkroom, and with independent musicians and ballet companies, she is a documentary production assistant for producer Debi Wisch. This Spring and after graduation she is looking forward to securing roles in business analytics, creative production, project management, as well as content development and planning. [LinkedIn] [Creative Portfolio]
Katya Reichert is a junior at Barnard, majoring in computer science with a minor in art history. Outside the classroom, she loves playing board games with friends, making funky illustrations, and meticulously planning vacations. After graduation, she hopes to girl-boss her way into software engineering and continue traveling the world. [LinkedIn]
We are honored to be a Beyond Barnard mentoring site, and beyond impressed at the caliber of talent working with us over the winter break.