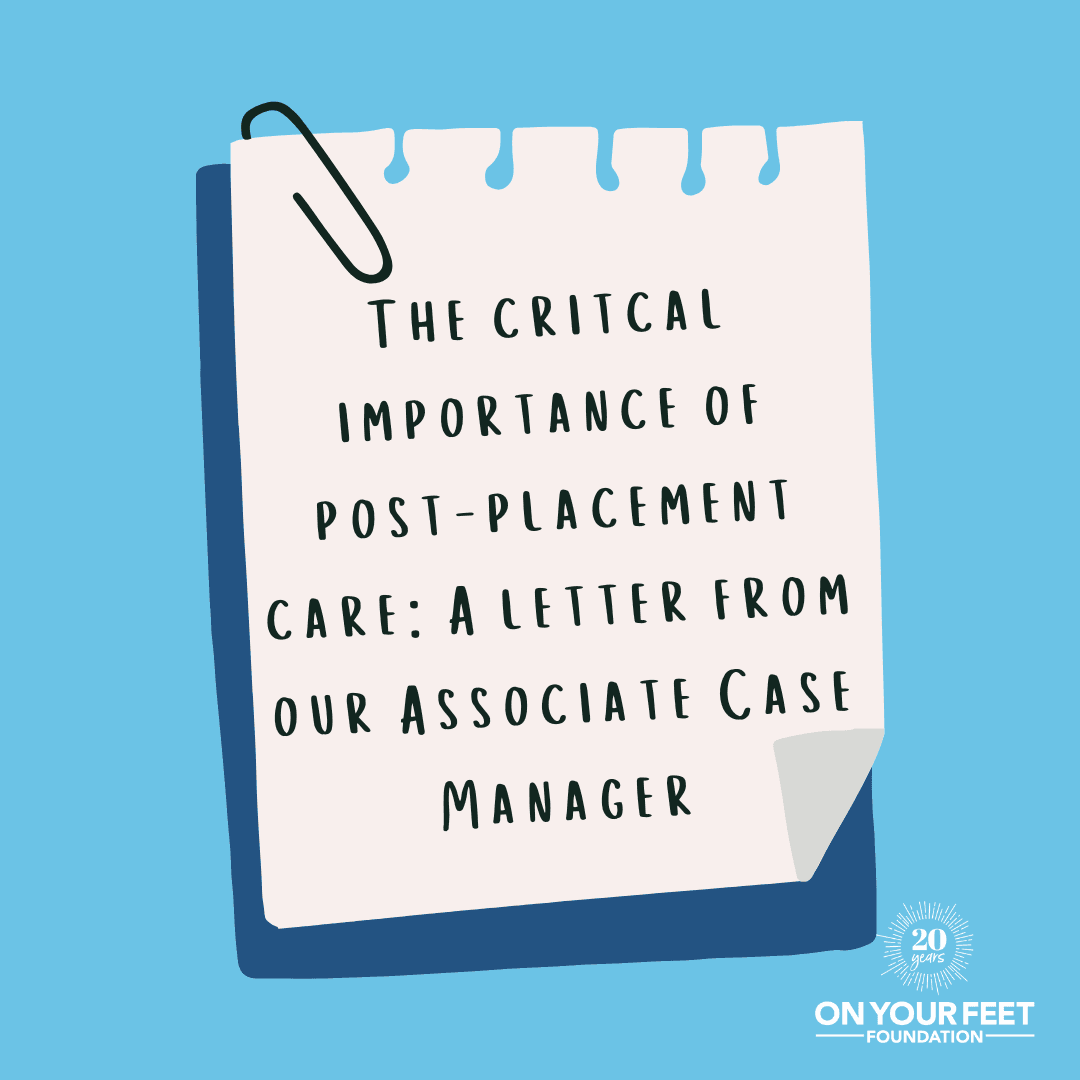 Like most non-profit organizations, our end-of-year appeal is one of our biggest fundraising opportunities, and a chance to connect with our extended community of friends and supporters, letting them know both how grateful we are for their generosity, and making sure they have the opportunity to see the tremendous impact their donations have in the lives of the birthparents we are honored to serve.
This year's letter comes from our Associate Case Manager, Kiara Montgomery, who shared her story, shining a spotlight on how critical post-placement care is for birthparents, and we are sharing it, below, to our entire community.
Dear Friend,
It's an honor to have the opportunity to write to you this year. My name is Kiara and I recently joined the staff of On Your Feet Foundation as an Associate Case Manager. I am also a birthmother to my son, Jason (10), and I parent two children, a son Jordan (5) and daughter Janelle (13).
I found On Your Feet Foundation in 2013 after placing my son for adoption in December of 2012. On Your Feet has truly helped me in so many ways - from referrals to services to grants for rental assistance, education, and resume building. Most of all, On Your Feet Foundation has provided a safe space for me and other birthmothers to speak openly about our adoptions, with other women who have walked the same path, and without fear of judgment.
When I first reached out to On Your Feet, I was in a very dark place. I had decided to place my son for adoption because I was a victim of domestic violence and I did not want my son to witness the way his father treated me. The agency I placed through knew that I was being abused throughout my pregnancy, but did nothing to help, and, a few months after placing my son for adoption, reported the abuse to DCFS which resulted in my losing custody of my daughter. While I was finally able to leave the extremely violent relationship I had been stuck in, I had no idea where to turn for help getting my daughter back - going back to the agency was out of the question.
Without On Your Feet, I don't know that I would be where I am today. I knew that On Your Feet would help me as I navigated the grief of both my son's adoption and the loss of my daughter to the foster care system, but I had no idea the lengths they would go to or their commitment to helping me! First, they helped me with a grant for rent so that I could move into a better apartment, in a safer neighborhood. Then, even though I had not placed my daughter, my case manager, Jennifer Adams, and On Your Feet's Board President at the time, Pat Trudeau, showed up to court dates and advocated for me to DCFS as I worked to regain custody of my daughter. And, in 2016, three years after losing custody, with On Your Feet's help, my daughter finally came home to me.
I'm so thankful to have the opportunity now, as a birthmother and a former client, to be able to work for the foundation that helped me and my family so much. There is absolutely nothing else like On Your Feet Foundation out there for birthparents, providing the level of comprehensive care and support necessary for us to heal, and having the opportunity now to help other birthmothers like myself is truly special to me.
So, during this time of year when we reflect on the things we are grateful for, I want to express my gratitude to you for helping make the work that we do at On Your Feet Foundation possible and I hope that you will support our continued work with a generous donation, so that birthparents like me can continue to receive the help we need, when it is needed most.
On behalf of all of us at On Your Feet Foundation,
Our deepest gratitude and warm wishes for a holiday season full of peace and joy,
Kiara Montgomery
Associate Case Manager
---
For more than 20 years, On Your Feet Foundation has provided support to the birthparent community and continues to be one of the only independent, non-profit organizations dedicated to providing birthparents with comprehensive case management services, grants for adoption-competent counseling, tuition, and emergency rent assistance, as well as running online communities, support groups, and birthmom-facilitated in-person and virtual retreats for birthmoms in the US and beyond.
Your support helps guarantee that we are here to serve the needs of birthparents for the next 20 years. As an independent, non-profit organization, On Your Feet Foundation relies on donations from individual donors; we do not receive state or federal funding, nor are our operations funded by corporate entities, NGOs, agencies or other organizations.