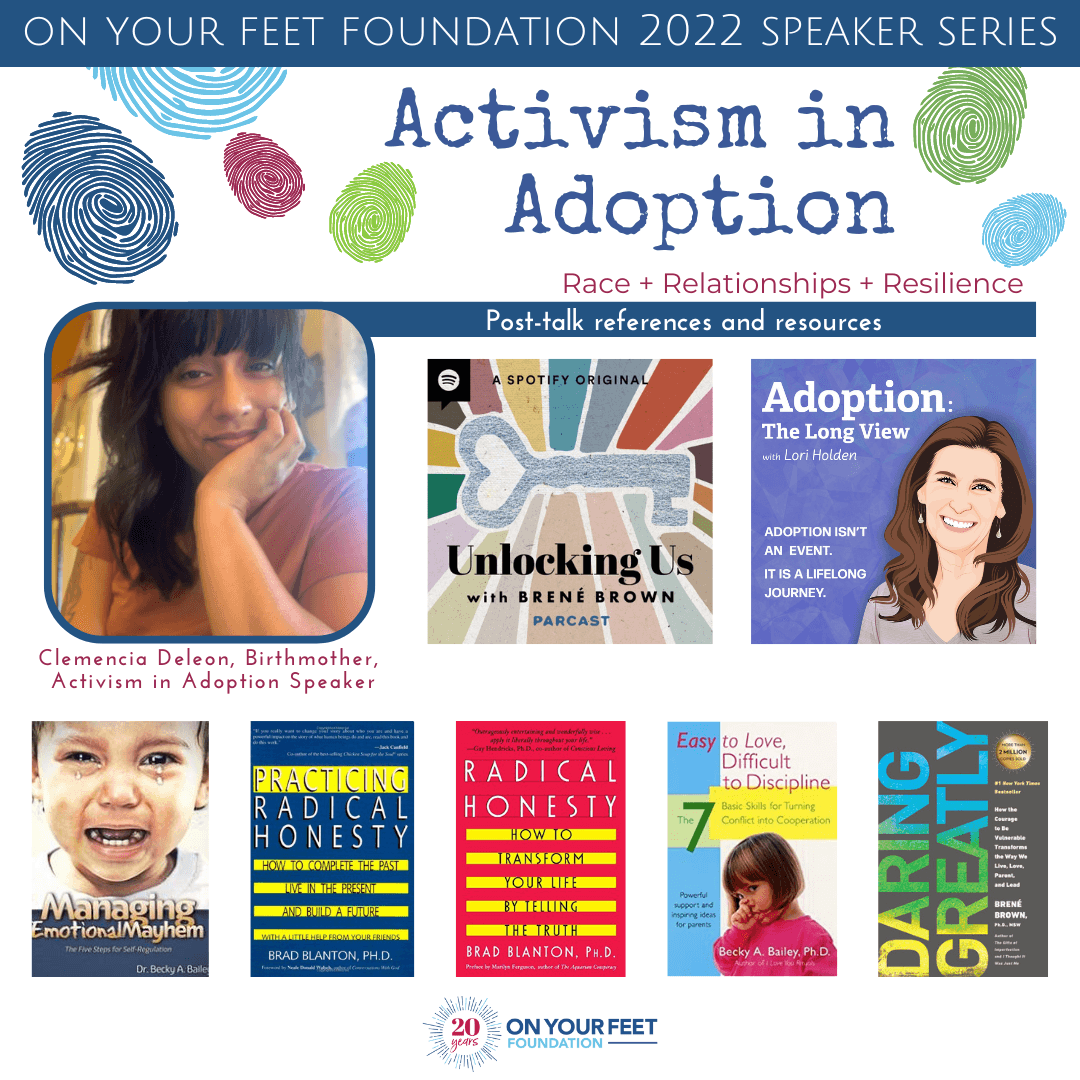 If you missed Clemencia Deleon's Activism in Adoption live talk last week, don't worry: a recording will be available soon. She spoke about the importance of developing radical honesty and emotional intelligence, both of which are critical in building a strong, healthy open adoption situation. As part of her talk, she provided us with a fantastic resource list of people, sources, and books that helped inform both her understanding of both concepts, and to deepen her practice of them, and we are pleased to be able to share these with our community.
Dr. Gabor Maté: Dr. Maté is an expert in the areas of addiction, stress and childhood development, with particular emphasis on how the brain develops during trauma, and his books weave together scientific research, case histories, and his own insights and experience to present a broad perspective that enlightens and empowers people to promote their own healing and that of those around them. His books include In the Realm of Hungry Ghosts: Close Encounters with Addiction, When the Body Says No, Scattered Minds: The Origins and Healing of Attention Deficit Disorder, and Hold On to Your Kids: Why Parents Need to Matter More Than Peers. That lost book was co-authored with Gordon Neufeld, who spent forty years as a clinical psychologist working with children and youth, and is a well-known authority on child development.
Dr. Brad Blanton: Dr. Branton is a psychotherapist, author, workshop leader, speaker, and the founder of  the Radical Honesty Institute. His books include Practicing Radical Honesty: How to Transform Your Life by Telling the Truth: How to Complete the Past, Live in the Present, and Build a Future with a Little Help from Your Friends, Radical Parenting: Seven Steps to a Functional Family in a Dysfunctional World, and The Truthtellers: Stories of Success by Radically Honest People.
Dr. Joe Dispenza: Dr. Dispenza is a researcher, lecturer, author, and corporate consultant, who focuses on demystifying the mystical so that people have all the tools within their reach to make measurable changes in their lives. His books include Breaking the Habit of Being Yourself: How to Lose Your Mind and Create a New One, You Are the Placebo: Making Your Mind Matter, Becoming Supernatural: How Common People are Doing the Uncommon, and Evolve Your Brain: The Science of Changing Your Mind.
Dr. Becky Bailey: Dr. Bailey is an award-winning author, renowned teacher and internationally recognized expert in childhood education and developmental psychology. Dr. Bailey is the founder of Conscious Discipline, a company dedicated to creating positive, brain-smart environments for children, families, schools and businesses. She has authored a lot of books in this field, including books for children. A few of her books include Managing Emotional Mayhem The Five Steps for Self-Regulation, Easy To Love, Difficult To Discipline: The 7 Basic Skills For Turning Conflict, and I Love You Rituals.
Brené Brown: Dr. Brown is a researcher, storyteller, and Texan who's spent the past two decades studying courage, vulnerability, shame, and empathy. Her books include Atlas of the Heart: Mapping Meaningful Connection and the Language of Human Experience, Daring Greatly: How the Courage to Be Vulnerable Transforms the Way We Live, Love, Parent, and Lead, Rising Strong: How the Ability to Reset Transforms the Way We Live, Love, Parent, and Lead, and The Gifts of Imperfection: Let Go of Who You Think You're Supposed to Be and Embrace Who You Are. Dr. Brown also has a podcast, Unlocking Us, focusing on conversations that unlock the deeply human part of who we are, so that we can live, love, parent, and lead with more courage and heart.
Lori Holden's Podcast, Adoption: The Long View: every episode of this podcast is an opportunity for learning, and Clemencia recommends this episode, with adoptee and activist Rich Uhrlaub, on Ending Shame & Secrecy in Adoption Policy.
Clemencia herself was a guest on this podcast, in an episode entitled Truth-Telling & Emotional Intelligence in a Kinship Adoption.  Part two of that interview is here. You can also read her essay on kinship adoption.