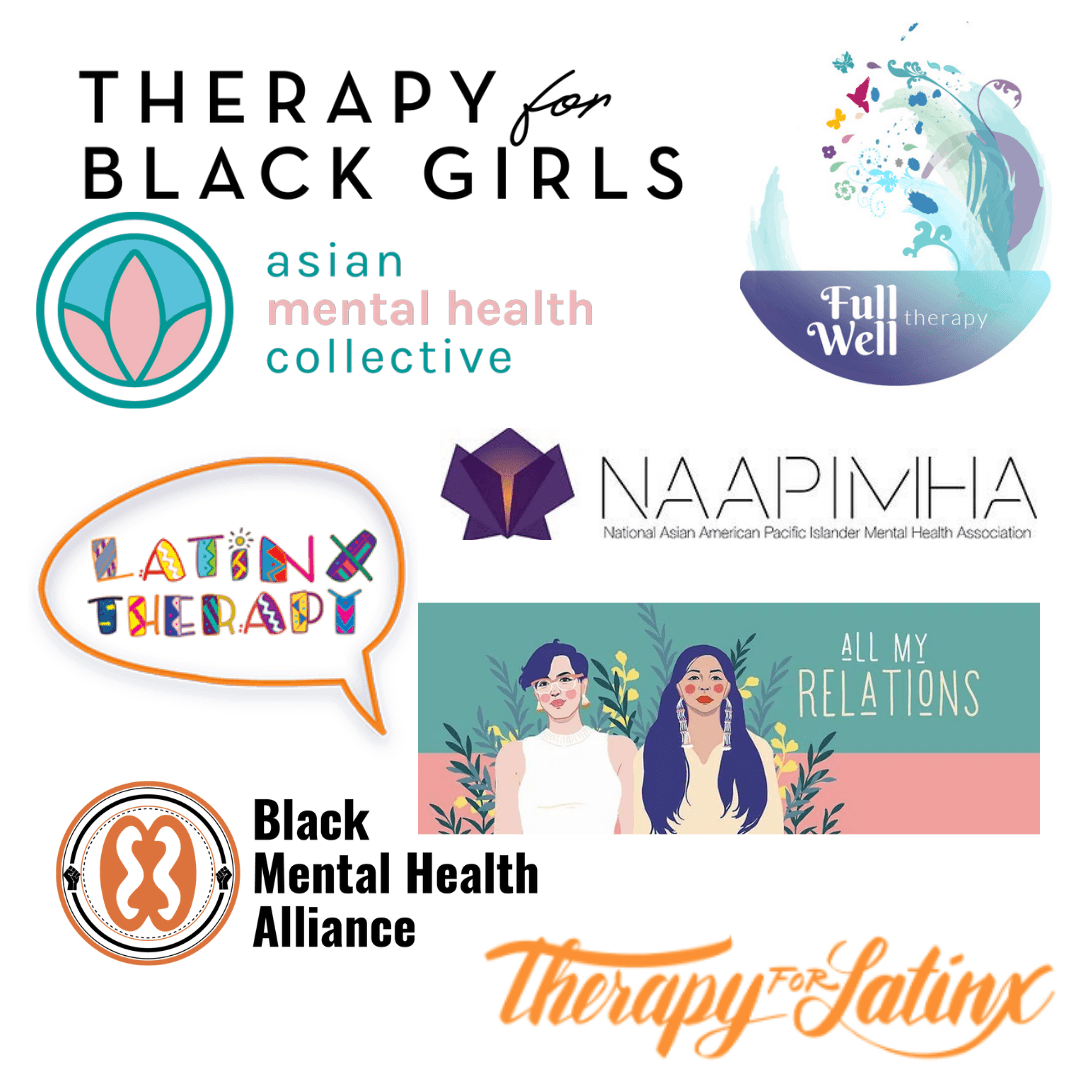 May is Mental Health Awareness month, which makes it the perfect month to highlight organizations and programs working to help provide culturally competent mental health. At On Your Feet, we talk a lot about the importance of finding adoption-competent therapists for birthparents, but we know that intersectionality matters, too, and that cultural factors play a large part in who will seek help, what types of help they may seek out, and how much support they may have to do so. This week we have mental health resources for people of color: organizations, podcasts, and other links meant to provide access to  culturally competent mental health resources. This is by no means a comprehensive list! If you have resources to share, please send them along, so we can add them in.
Mental Health Resources for the Black Community
Therapy For Black Girls: So often the stigma surrounding mental health issues and therapy prevents Black women from taking the step of seeing a therapist. This community presents mental health information in culturally relevant ways, helps Black women connect with culturally competent therapists, and hosts a weekly podcast dedicated to Black women's mental health.
Black Emotional and Mental Health Collective: BEAM is a national training, movement building, and grant making institution that is dedicated to the healing, wellness, and liberation of Black and marginalized communities, including a wellness directory to connect with Black therapists and other health and wellness practitioners.
Black Mental Health Alliance: Develops, promotes, and sponsors trusted culturally-relevant educational forums, trainings and referral services that support the health and well-being of Black people and their communities. They maintain a directory of Black psychiatrists, and can help community members connect with culturally competent therapists.
Sister Afya: Sista Afya Community Mental Wellness vision is for Black women across the African Diaspora to be free from psychological and physical illness through supporting one another and engaging in accessible mental wellness care that centers the well-being of the whole person. 
Black Therapists Rock: their mission is to reverse racial trauma through collective healing, which includes curating a comprehensive list of culturally competent therapists by state.
Therapy for Black Men: Working to break the stigma that asking for help is a sign of weakness, they maintain a directory of therapists in coaches in 50 states, to provide judgment-free, multiculturally-competent care to Black men.
Boris Lawrence Hensen Foundation: Golden Globe winner Taraji P. Henson named her foundation after her father, whose mental health suffered as a result of his Vietnam war service. As part of their ongoing commitment to mental health they offer a Mental Wellness Support program, which serves African American individuals and families experiencing life-changing events and everyday struggles, including but not limited to stress and anxiety regarding race relations and injustice towards people of color.
The Loveland Foundation: The Loveland Foundation was established in 2018 by Rachel Cargle in response to her widely successful birthday wish fundraiser, Therapy for Black Women and Girls. Her enthusiastic social media community raised over $250,000, which made it possible for Black women and girls nationally to receive therapy support. Black women and girls deserve access to healing, and that healing will impact generations.
Podcasts and Apps
Balanced Black Girl: A mindful collective that puts the needs of Black women first, by creating free and accessible wellness content and resources, amplifying the voices of Black and brown women in wellness, and shining light on healers and practitioners making waves in our community.
Liberate Meditation App: The daily meditation app for us, by us. A safe space for the Black community to develop a daily meditation habit.
The Safe Place: This minority mental health app focuses on self-care and mental health in the African American community.
Black Mental Matters Podcast: Breaking the stigma of mental health issues, through education, awareness, and advocacy.
Mental Health Resources for Asian American and Pacific Islander Communities
Asians Do Therapy: This is a great starting point for anyone thinking about therapy. By highlighting Asian people's experience in therapy and as therapists and sharing culturally relevant information, they hope to inspire more people to seek out therapy as a resource. They also have an excellent podcast.
Asian Mental Health Collective: The Asian Mental Health Collective is an organization focused on de-stigmatizing mental health within Asian communities. They maintain a Therapist Directory, a directory of therapists located in Canada, and the United States who specialize in serving Asian American, South Asian American, and Pacific Islander communities. 
South Asian Mental Health Initiative and Network: SAMHIN is a non-profit that addresses the mental health needs of the South Asian community in the U.S., to decrease the stigma and shame associated with mental illness and offer resources for people who seek help.
National Asian American Pacific Islander Mental Health Association: NAAPIMHA promotes the mental health and well being of the Asian American, Native Hawaiian, and Pacific Islander communities and  strives to raise awareness of the role of mental health in an individual's health and well-being, especially in Asian American, Native Hawaiian, and Pacific Islander communities throughout the country. They maintain a comprehensive list of service providers across the United States.
Viet-C.A.R.E.: Viet-C.A.R.E. was founded to address the unique mental health needs in the Vietnamese community, offering mental health access and support to community members.
South Asian Providers Database: MannMukti has collected a list of South Asian mental health providers so their audience can find culturally responsive care.
South Asian Therapists: Their directory has hundreds of South Asian therapists, including Indian, Pakistani, Bangladeshi, Sri Lankan, Afghani and Nepali heritage, offering culturally competent South Asian mental health options.
Podcasts and Apps
Asians Do Therapy Podcast: Check out Asians Do Therapy, the podcast for conversations with Asians and Asian Americans on both sides of the couch. 
The Full Well Podcast: Conversations about the intersection of Asian American identity and mental health as we explore our experiences, our beliefs, and what it means to be us.
Thrive Spice: Advancing mental health and social impact for Asian Americans and underrepresented identities through podcasts & mental health masterclass workshops.
MannMukti: Their mission is to encourage healthy, open dialogue of  South Asian mental health issues in an effort to remove stigma, improve awareness and promote self-care.
Mental Health Resources for Hispanic/Latino Communities
Latinx Therapy: Latinx Therapy was founded in 2018 with the mission to de-stigmatize mental health in the Latinx community. Since then, they have expanded to become a bilingual podcast and national directory to find a Latinx Therapist (98% of their directory are Spanish speakers). Latinx Therapy strives to provides culturally-grounded workshops and services to the community. 
Therapy for Latinx: For so many intersectional communities including Latinx, Black, and those who are marginalized there are so many barriers to finding a mental health professional, and the huge lack of representation can often lead to further trauma, dealing with racial micro aggressions, discrimination, and xenophonia. They provide resources for our community to heal, thrive, and become advocates for their own mental health.
National Alliance for Hispanic Health: They work to ensure that health incorporates the best of science, culture, and community, by listening to the individual, investing in leading community based organizations, working with national partners, examining and improving the resources and systems available, and designing solutions to make health a part of each person's life, working to improve the quality of care and its availability to all.
Podcasts and Apps
Latinx Therapy Podcast: Tune in with Adriana Alejandre, LMFT to the weekly podcast that discusses mental health topics related to Latinas, Latinos and Latinx individuals in efforts to demystify myths and diagnoses. Cultural and commonly stigmatized themes will be discussed with Latinx mental health professionals, psychiatrists, doctors, bloggers, tv personalities, social media influencers, entrepreneurs and many more. Spanish segments are aired every other week.
Indigenous Peoples, Native Americans, and Alaskan Native Communities
One Sky Center: Their mission is to improve prevention and treatment of mental health and substance abuse problems and services among Native people. They maintain a directory of mental health professionals, and inclusion in this directory represents those who are "nominated" from a number of reputable sources. The objective is to identify people who are respected and trusted by their peers and have expertise useful to Indian Country.
Strong Hearts Native Helpline: a Native-centered hotline staffed by advocates with a strong understanding of Native cultures, as well as issues of tribal sovereignty and law. StrongHearts is a culturally-appropriate, anonymous, confidential service dedicated to serving Native American survivors of domestic violence and concerned family members and friends.
Tribal Behavioral Health Resource Directory: Put together by the state of Oklahoma, this directory provides health resources.
Alaska Native Tribal Health Consortium: The Alaska Native Tribal Health Consortium is a non-profit Tribal health organization designed to meet the unique health needs of Alaska Native and American Indian people living in Alaska.
Podcasts and Apps
All My Relations: Exploring what it means to be a Native person.  To be an Indigenous person is to be engaged in relationships—relationships to land and place, to a people, to non-human relatives, and to one another. All My Relations is a place to explore those relationships, and to think through Indigeneity in all its complexities. 
Getting Real About Native American Mental Health:  2021 Woman of the year Dr. Anitra Warrior shares her story of turning her tragedy into helping others, and discusses the tragic experiences that led to working in the mental health field, and the importance of incorporating Native American Culture and Heritage into western practices, advocating for respect instead of pathologizing heritage and culture.
Indigenae Podcast: Indigenae is a community-guided podcast that celebrates Indigenous womxn's health and wellbeing, brought to you by the Johns Hopkins Center for American Indian Health. Join hosts Sarah Stern (Cherokee Nation), Olivia Trujillo (Navajo Nation), Dr. Sophie Neuner (Karuk Tribe), and their guests on a journey through Indigenous womanhood.