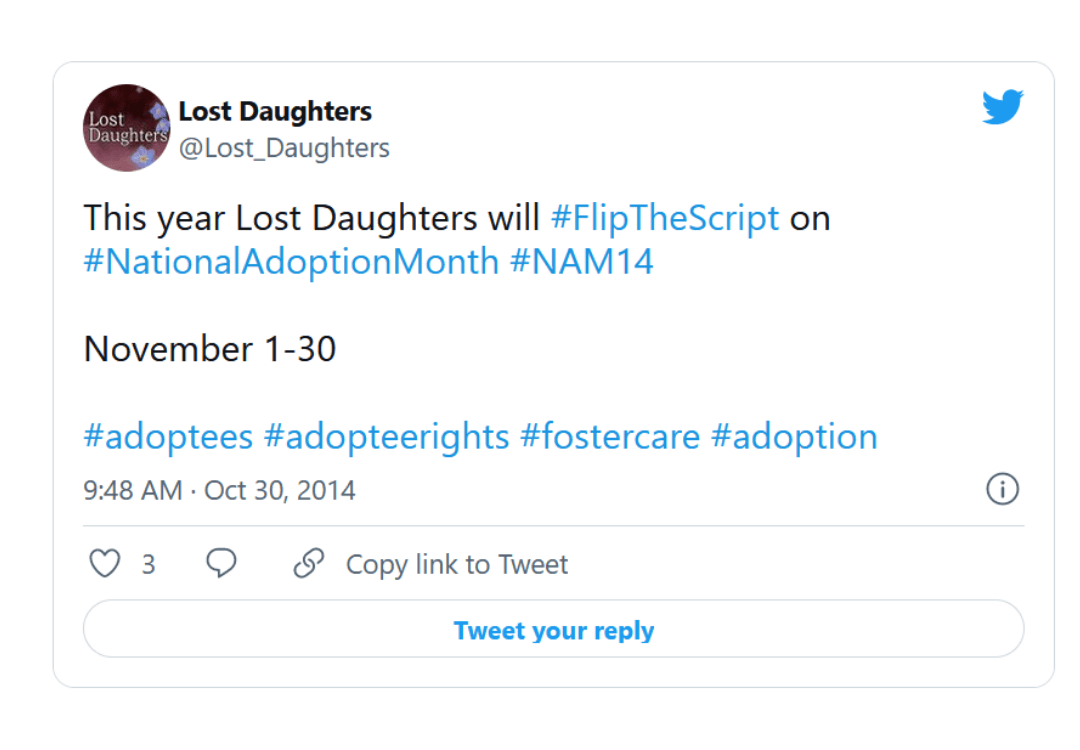 November is National Adoption Awareness Month, and if you are on social media, you've no doubt seen the hashtags #NAAM, #NAAM22, and #NAAM2022, and had the opportunity to see everyone in the adoption constellation sharing their stories. But how did we get here?  
It all started in 1976, in Massachusetts, with then governor Mike Dukakis, who initiated Adoption Week as an opportunity to promote awareness of the need for adoptive families for children in the foster care system. As his idea spread, President Gerald Ford made the first Adoption Week Proclamation, and in 1984, President Ronald Reagan, an adoptive father himself, announced the creation of a National Adoption Week, to fall in the week prior to Thanksgiving.  In his proclamation, he recognized not only children within the foster care system, but also those born from crisis pregnancies, whose mothers he described as being brave and selfless in their decision to choose adoption. He also advocated for the adoption of special-needs children, both domestically and internationally, something that at that time was not often publicly acknowledged or encouraged.
Seeing so many states embrace Adoption week, President Bill Clinton expanded the week to encompass the entire month of November, still emphasizing foster care and special needs adoption, but also the initiatives his government created to break down barriers to transracial adoption. In 1998 he championed the use of the internet to help find homes for kids in foster care, which created the pervasive idea that foster care is more focused on adoption than it is on reunification and support of first families. In 2008, President George W. Bush was the first president to issue a proclamation about National Adoption Month in Spanish.
Missing in these celebrations of adoption were the voices of birthparents and adoptees, and anything that suggested that adoption was not the absolute best option for children. Throughout the month, it was always the voices of adoptive parents and adoption professionals creating the narrative of what adoption is, and what it means. In November of 2014, Rosita González of Lost Daughters created the #flipthescript movement on Twitter, giving adoptees a voice that wasn't being heard during National Adoption Month, and providing them a platform on which to speak. And speak up they did, using the hashtag more than 18,000 times that month. Today, that hashtag has grown into the title of an anthology, Flip The Script, Adult Adoptee Anthology, a dynamic, artistic exploration of adoptee expression and experience.
The #flipthescript movement opened the floodgates for both adoptees and birthparents, many of whom felt silenced by National Adoption Week; erased in stories that celebrated adoption and adoptive parents but did not acknowledge any of adoption's harder truths. It is the addition of the voices of adoptees and birthparents that has helped redefine what we now refer to as National Adoption Awareness Week, becoming a social media movement that provides a platform for voices traditionally marginalized in the adoption landscape. Storytelling is the cornerstone of community, and following these hashtags online gives everyone in the adoption constellation both the opportunity to tell their own story, and the chance to find others with similar stories. When we say we recognize National Adoption Awareness Month, perhaps what we are really recognizing is the strength and community we find, every time someone shares their story using one of those hashtags, and the generosity of spirit and kindness within that community.