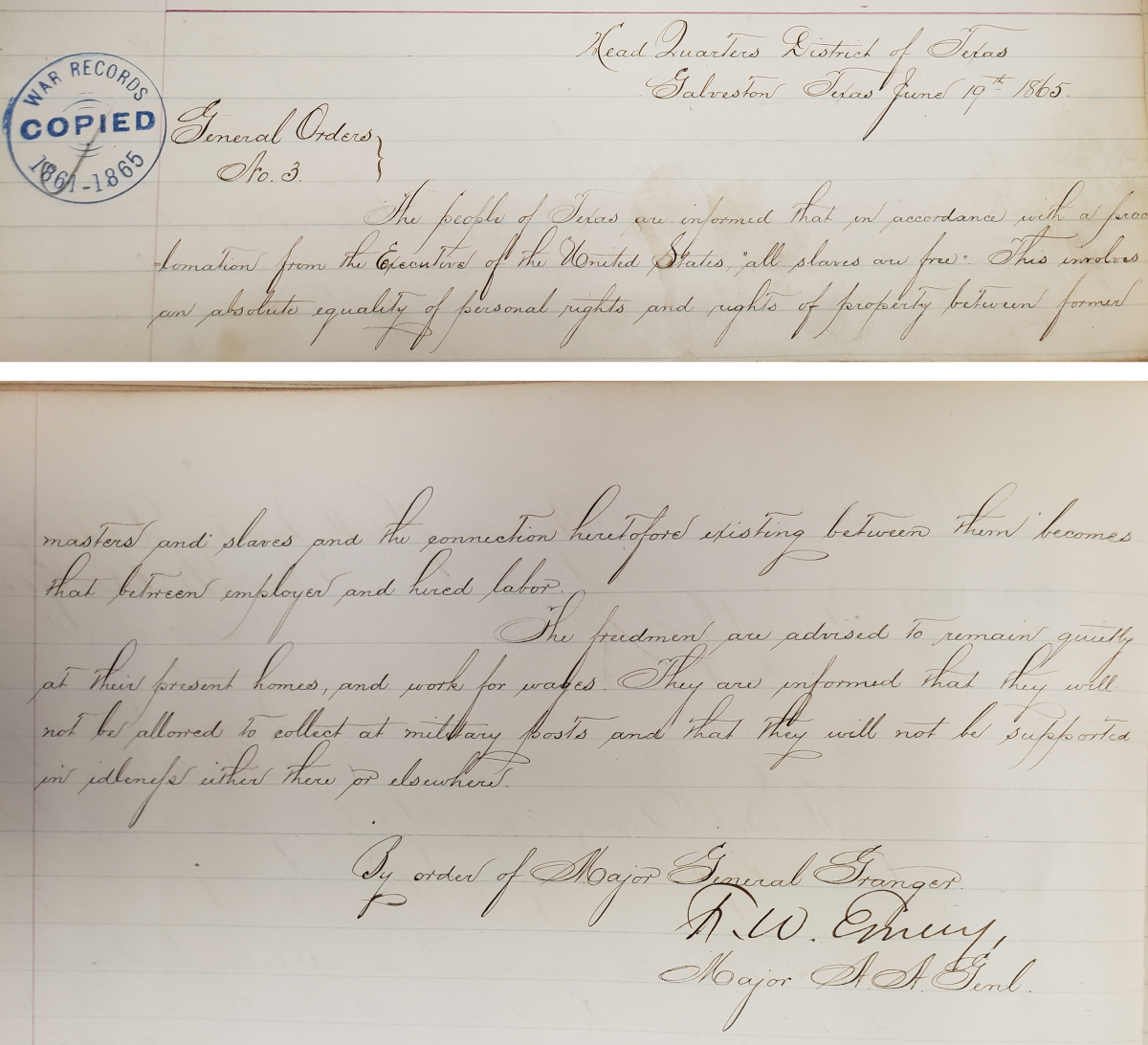 We are very proud of how our Activism in Adoption speaker series has grown into a catalyst for having hard but honest conversations rooted in the intersection of race and adoption, and for the education it has provided for everyone in attendance. In honor of President Biden signing the Juneteenth National Independence Day Act this week, and given recent Harris Poll results indicating that nearly half of Americans are either not very or not at all aware of the significance of Juneteenth, we have curated some helpful Juneteenth resources for parents who have adopted transracially. If this is your first Juneteenth, consider recognizing it in a way that honors the history of the holiday. The image here is the official handwritten record of General Order No. 3, is preserved at the National Archives Building in Washington, DC.
General Order No. 3 states:
"The people of Texas are informed that, in accordance with a proclamation from the Executive of the United States, all slaves are free. This involves an absolute equality of personal rights and rights of property between former masters and slaves, and the connection heretofore existing between them becomes that between employer and hired labor. The freedmen are advised to remain quietly at their present homes and work for wages. They are informed that they will not be allowed to collect at military posts and that they will not be supported in idleness either there or elsewhere."
Slavery Didn't End On Juneteenth. Here's What You Should Know About This Important Day, by Sharon Pruitt-Young. If Juneteenth wasn't part of the Social Studies curriculum when you were in school, this is an excellent place to start, laying out the basic facts about the significance of this date.
Juneteenth Challenges A Narrative About America's History, by Alex Samuels, talks about how Juneteenth is being drawn into greater culture wars surrounding the current attempts to ban critical race theory from education.
Here's What You Need to Know About the Juneteenth Flag, by Duncan Nielsen. The flag was first hoisted in 2000 at the Roxbury Heritage State Park in Boston, Massachusetts, by the foundation's founder Ben Haith, who also created its design.
Teach Your Kids About Juneteenth. This is an excellent basic primer for parents.
Eight Great Books To Teach Kids About Juneteenth, by Petal Modeste. Books here run from ages 5-14+.
18 Books To Celebrate Juneteenth With, by Keyaira Boone. Her excellent curated list of books shed light on the history of Juneteenth through research and personal narratives, the racist systems erected in the aftermath of abolition and some of the art the holiday inspired.
68 Recipes From Black Creators to Celebrate Juneteenth, by Meiko and The Dish. This link is an excellent two-fer! Not only does every recipe on this list sound incredible, but you also get a curated list of 68 Black influencers and creators to follow.
Songs For Freedom: A Juneteenth Playlist, curated by Pianist Lara Downes. Click through to Spotify for the full list, but first, check out the photogallery that accompanies these songs. The photographs are from the Scurlock Studio, the Black-owned Washington D.C. based photography business founded by Addison Scurlock in 1904. For almost a century, the Scurlock Studio utilized their cameras and their access to document the Black community in all its many facets; presenting a nuanced view of Black culture in 20th century Washington.
NPR Special Series on Juneteenth. Here, you can learn about Miss Opal Lee, see the original copy of General Order No. 3, find book lists, and learn a little more history surrounding this holiday, and how it came to be.
This is a small start, of course, and we always welcome suggestions for great links and resources.