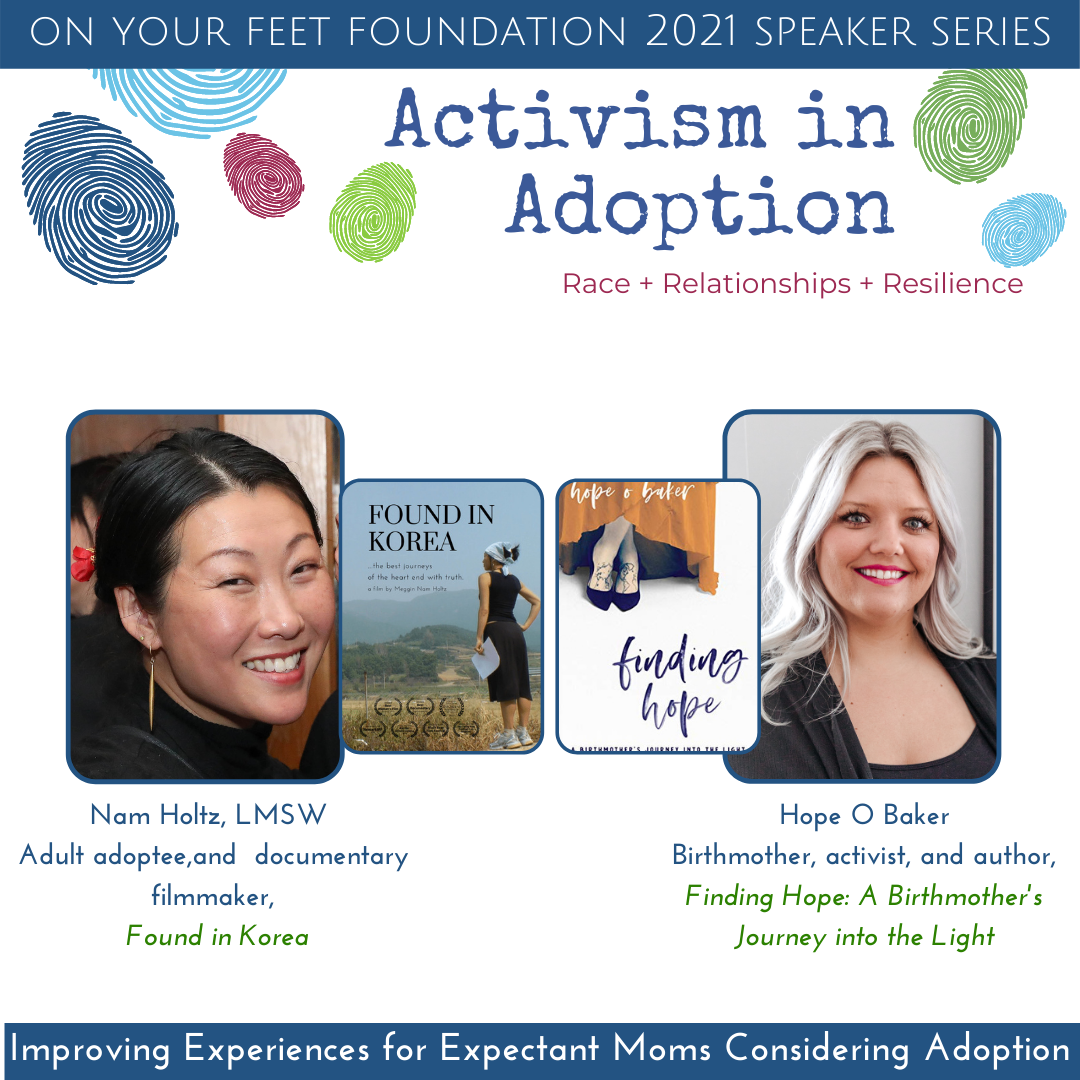 Last Sunday, we were honored to host Hope O Baker and Nam Holtz, LMSW, at our ongoing Activism in Adoption Speaker Series, talking about expectant parent and birthmom experiences, and how the outcomes from those experiences impact both their lives, and those of adoptees. There are two characteristics that set our Speakers Series apart from most adoption education resources: one, that we are giving a platform to birthparents and adult adoptees to learn from them, and two, that it is a safe space to hear uncomfortable truths, ask hard questions, hear nuanced, thoughtful answers, and come away a better advocate for everyone in the adoption triad. And for this topic, it is especially critical that everyone in the adoption triad, including adoption professionals, recognize that birthparents and adoptees are the experts we can all learn from.
Upfront, we were able to dispel a lot of myths about birthmothers, by reminding the audience that the average birthmother is a white woman between 25-35 years of age, with at least some college education. Why they might consider choosing to place was also part of the conversation, with the primary reasons being lack of support and resources, including financial, emotional, and physical.  
"Someday, you are going to have to tell your child the circumstances surrounding their adoption. Are you going to be able to tell them that you did everything you could to make sure their adoption was ethical? That you made sure that their birth mother had access to the resources she needed to heal?"
This quote was the cornerstone of the talk, and we are grateful that we were able to hear about that impact from both an adult adoptee and a birthmother. Adoption laws are made at a State, not Federal, level, and that means there is no standard of care for birthparents, because their rights and the responsibilities owed to them can vary so wildly, state to state. And talking about that lack of standard of care was an excellent segue into Nam Holtz, LMSW and adult adoptee, walking our audience through the impact of placement, including how the choices made before and at the time of delivery can have a lifelong impact on both mother and child.
"Infant oxytocin production is triggered, triggered by sight, smell, touch, and the sound of the birth mother."
It's that impact that organizations like On Your Feet see on a daily basis, and it's that impact that makes listening to birthmothers and adoptees – giving them platforms to share their knowledge – is so vitally important in the adoption sphere, especially when those stories deviate from what we have been told, or expect to hear. It is impossible to accurately summarize how powerful this 90 minute presentation was, and the nuanced way our speakers handled such a difficult topic.
The good news is, if you missed, it, all of the Activism in Adoption recordings are made available on our web site to watch, broken down into chapters. Each chapter consists of a talk on race, on relationships, and on resilience, and currently, chapter one is posted. This talk, which is in chapter two of our adoption education series, will be available for download this summer.
Coming in June, we are pleased to be able to welcome Cordan James as our Activism in Adoption Speaker. Cordan, a transracial adoptee,  father of three, and mentor and motivational speaker,  will be discussing the role fathers play in adoption. Tickets are now available.
Thank you to Presenting Sponsor Friends in Adoption, for their generous support of Activism in Adoption. Friends in Adoption (FIA) is a non-profit, pro-choice, licensed agency with a focus on helping people make informed decisions concerning adoption. FIA is committed to open adoption, inclusiveness, and providing lifelong support to all members of the adoption triad – placing each child at the center of what they do.