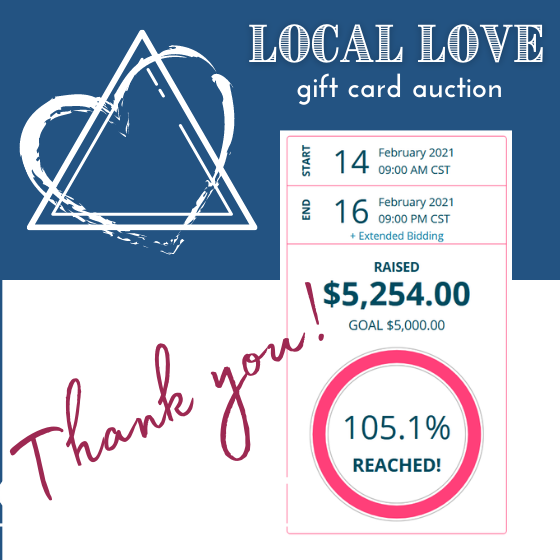 Thank you so much to our wonderful community, who made our 2021 Local Love Auction such a success! Starting in early January, supporters started buying gift cards from the businesses that helped them get through 2020 – places that helped them keep their spirits high and their pantries stocked in what was an impossibly challenging year – and then donated them to us, so that we could auction them off to help us further our mission of supporting and empowering birthparents. This past year was so tough for small business owners, and each gift card purchase helps ensure their survival. As people donated their gift cards, they also shared with us why they picked the businesses they did, and their reasons were a great reminder of how vital each of these businesses is in the community.
"I chose to donate Village Farmstand gift cards because everyone deserves to cook like a chef or at least have chef-made food delivered to you!"

"I donated Reyes Steakhouse gift cards to On Your Feet Foundation Local Love auction because quite honestly it's the best steak I ever had and I want someone else to experience their delicious food, too!"

"I donated a gift card to Firehouse Grill in Evanston because they also support local and have a great comfort food menu that is perfect for a simple night out and friendly for the kids!"

"I donated a Beer on the Wall gift card because I miss their game nights and beer flights, and I definitely appreciate their craft beer curbside pickup."

"I donated a Virtu gift card, because even during a pandemic, we still need pretty things. And our friends need pretty things. And we definitely need wonderful shops like Virtu to be around when life gets back to normal!"
The response was overwhelming! So many gift cards, to so many wonderful places. Beer, beer, and more beer, wine and more wine, and of course, pizza, pizza, pizza – it was pretty clear what was helping a lot of us survive 2020! And as the donations poured in, local businesses joined in, donating as well – Danny's Pizza, Booked, Page 1 Books, and Shakou all contributed to our auction, and we are so grateful to them for it.
The auction site launched on Valentine's day, and bidding was fierce! But in the end, our bidders won some great deals and helped us surpass our fundraising goal. We are so grateful to you all, for turning out to support our mission.
Winning bidders, check your email for a confirmation from the auction site, along with payment instructions. If you didn't get that email, or aren't sure if you won, you can check the auction site directly – if you won, the site will give you the opportunity to view and pay for your items.
At the conclusion of the auction and payment, On Your Feet will email/mail the winner the gift card purchased. Any amount paid beyond the face value may be considered a tax deductible donation. If for any reason you are unable to use the gift card purchased, On Your Feet will be happy to provide a tax letter for the donation you made. However, refunds cannot be considered. Thank you for your support!