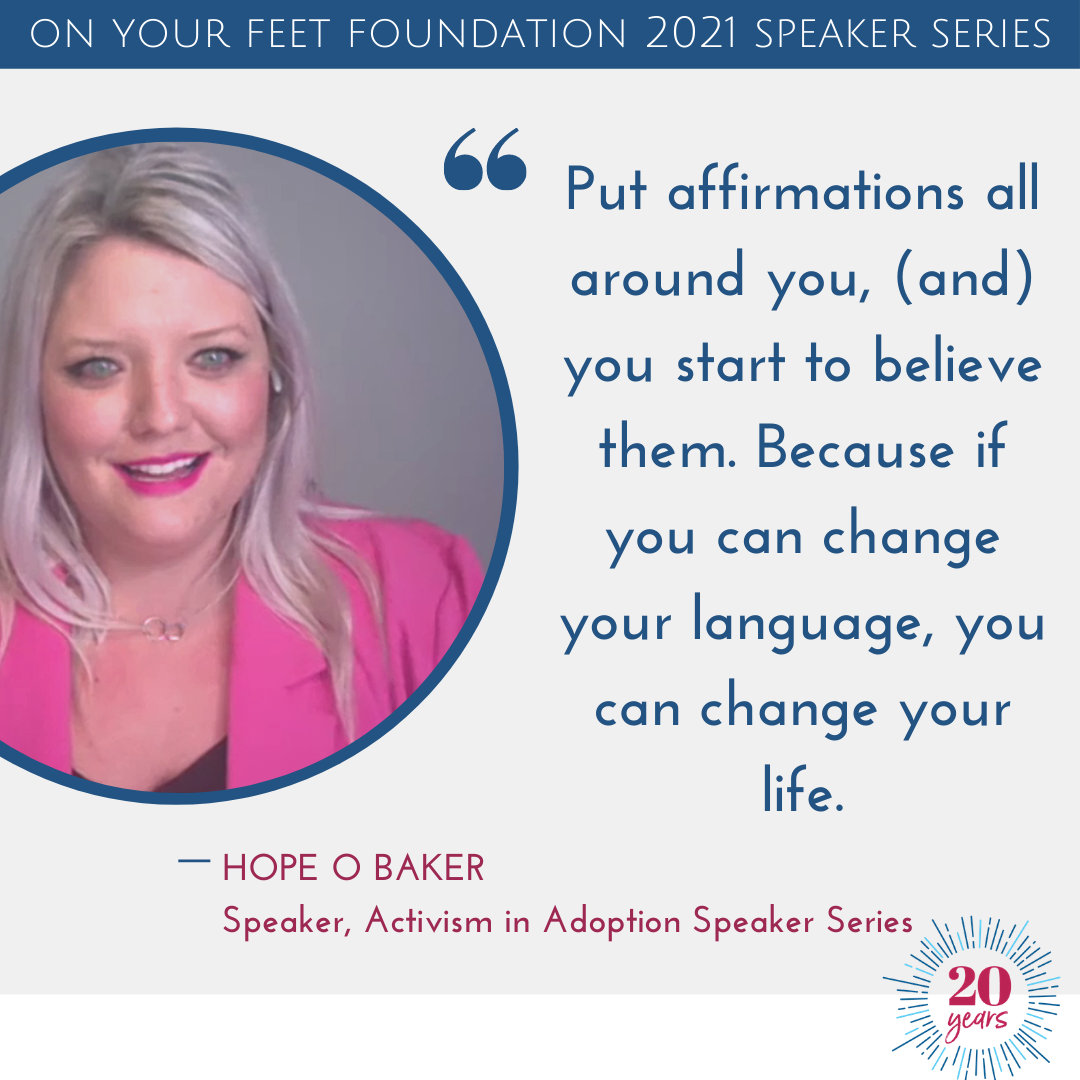 Our 2021 Activism in Adoption Speaker Series kicked off last Sunday with Hope O Baker, and we could not have had a better start to our year of flipping the script on adoption education. Hope, a birthmother, author, and an inspiring speaker, gave our audience a riveting talk, leading them through her birthmother experience and ending with some of the guidelines she's found to find success and happiness. Moderated by Liz Pryor, also a birthmother, and the author of a best-selling birthmother memoir, Hope's talk was an unprecedented opportunity for two birthmothers, each with very different stories to tell, to share their experiences in a nuanced and honest way, as well as their thoughts and opinions on how to find resilience within yourself, and how to heal. And afterward, both women fielded candid questions from the audience. This Q & A session with our speakers – a standard format in our Speaker Series – is a real gamechanger in adoption education, and our audience was enthusiastic about the opportunity to ask questions of both our speaker and moderator.
Every word of Hope's talk was inspiring – it's an embarrassment of riches, to try and recap it, so we will limit ourselves to one section of her talk that spoke to finding ways to build yourself happiness and resilience when those things feel absent from your life. These are Hope's three lessons:
Trick yourself into happiness
"Your thoughts can be strikingly self-fulfilling," she told our audience, "and the things you often tell yourself come true." Hope shared with us that one of the ways to trick your brain into happiness is to set a short amount of time to get all of the negative emotions out, and then actively choose happiness afterward. Make it a choice.  "Choose to see everything you come in contact with that day as a blessing." 
This isn't an instant cure, of course.  But as Hope reminded us, it builds over time. Trick yourself into happiness until it starts to happen naturally.
Reciting affirmations
Whether it's scribbled post it notes on your bathroom mirror, or a beautiful designed deck of affirmations (or both!), affirmations are a way of reminding ourselves of our innate worth, value, and possibility. And as Hope says, "If you say them enough, and you put affirmations all around you, you start to believe them. Because if you can change your language, you can change your life."
Be Kind to Yourself
Find someone you can share your story with. Find support with people who understand where you might be, and be kind to yourself in the process.
If you follow us on Twitter, you'll notice that we have started seeking out birthmother narratives and linking to them, and part of the reason for that is that being a birthmother isn't a uniform experience. Every woman's path is different, and it's important for everyone in the adoption triad to recognize that. Having the opportunity to hear both Liz and Hope share their stories made that point very clear to the audience, because their experiences were very, very different. There is no one 'birthmother' experience, unchanging over time, and generalizable to everyone. And so we will leave you with one last bit of wisdom from Hope, a reminder to everyone in the adoption triad: "We need to allow our feelings to change." How you feel about your adoption experience today isn't how you felt a year ago, a day ago, or ten years from now. It's an important thing to remember as we all work to become better adoption advocates.
Up next in our Speaker Series is Isaac Etter, a transracially adopted adult who is now a racial bias consultant at Etter Consulting, a firm Isaac founded in January of 2019. Isaac has a passion for helping families and adoption agencies learn about racial bias and create inclusive homes, and has used his story of being adopted and growing up in a white world to curate deep conversations about race in America. With his unique insight on racial tensions between the white and black communities, he has been able to curate impactful conversations where everyone learns to value each other and their experience, while learning about systemic racism, privilege and their role in it. We cannot wait for his session on Sunday, February 21, 2021, 2PM CST. Tickets available now.