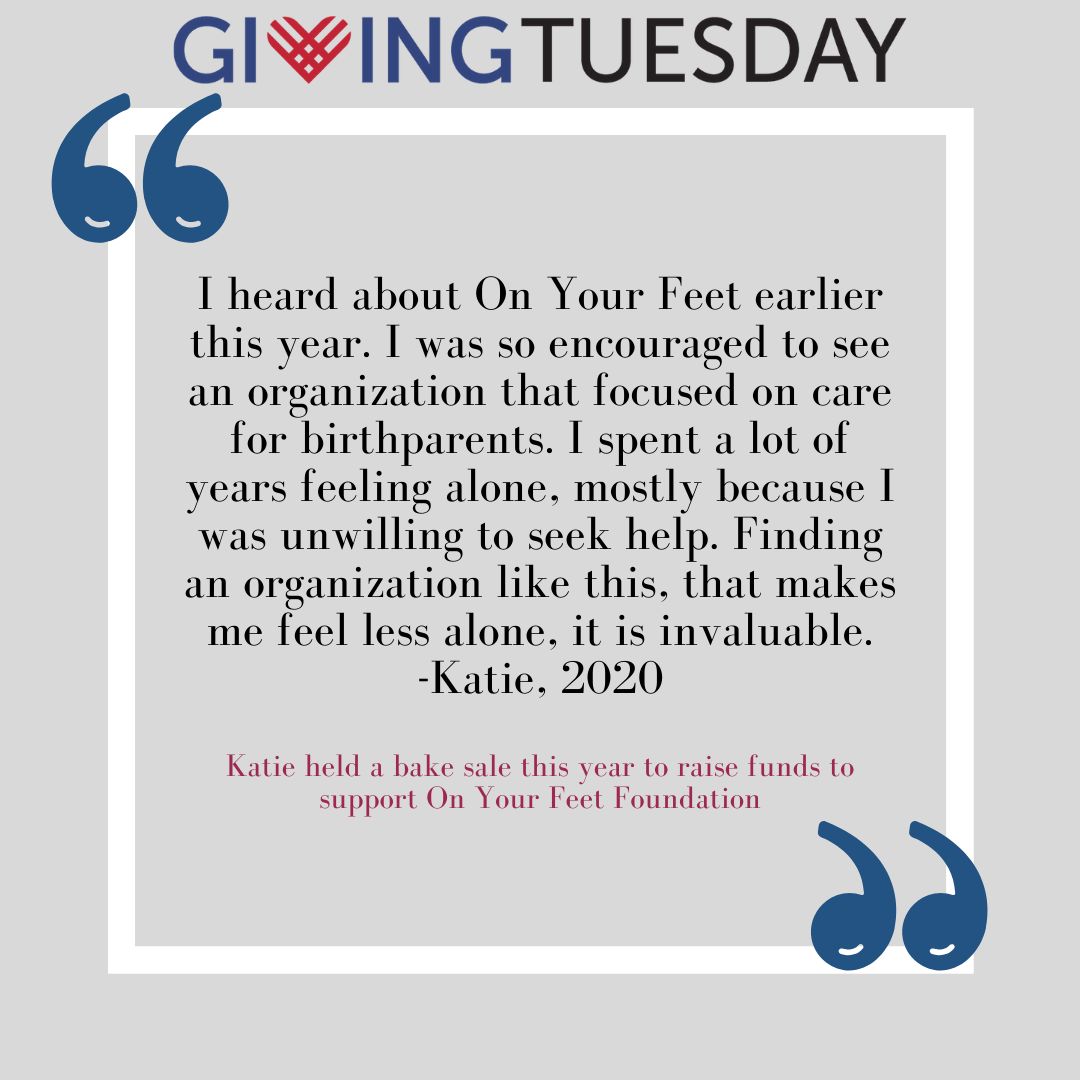 Ideally this is the season of giving and gratitude, taking stock of what and who matters most to us. But, we all know it is also a crazy time of shopping lists, finding deals, and sometimes stressing out about those perfect gifts. For one day, in all of that madness we can find time to pause and support non-profit organizations who have been deeply challenged this year and support them through #GivingTuesday. 
Did you know that On Your Feet Foundation is entirely funded by donations? Yes! Donors who care about the adoption triad have supported On Your Feet in many ways this year. They have purchased t-shirts, donated and bid on gift cards, mailed checks, bought tickets to online events, created social media fundraisers, pledged monthly giving commitments, and more. It is the generosity of people committed to On Your Feet's mission that have enabled it to keep moving forward in 2020 and carried the organization to an important milestone--its 20th anniversary in 2021. 
Please visit our donation page and make a contribution in honor of birthmothers on #GivingTuesday, December 1st. Even $20 in honor of On Your Feet's 20 years of service would help so much. If you are in the position to make a monthly contribution, we rely on those funds to plan for future programs. Knowing we can count on you to support birthmother services, ensures these services exist. Make sure you take those few minutes on December 1st to let On Your Feet Foundation know that you value its mission. Supporting what matters most to you in 2020 is what #GivingTuesday is all about. The entire On Your Feet Community thanks you for making it a priority. Our community is strong, committed, and grateful.