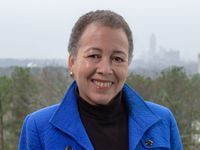 This past Sunday was the third week of our four week Activism in Adoption Speaker Series, and our Speaker was Dr. Beverly Daniel Tatum, who expanded upon her research into race and racism to unpack the impact race has on adoption.  Joining her were our panelists: Nam Holtz, whose award-winning documentary, Found in Korea explores birth search, along with birth mother Shanyce whose blog, Our Amazing Forever Family, chronicles the complex blended family she has created through adoption and the miracle of love, and author Kevin Hofmann, whose book, Growing up Black in White tells his story, about growing up as a Black child adopted into a white family, along with our series moderator, Pamela Cook, who was also spoke about her experiences as a transracial adoptee at our first Speaker Series session.
This speaker series is shaped around the idea that there are a lot of very hard conversations that need to happen within adoption, and often those conversations never happen because of how difficult they are, or because we lack the tools to have them. But the truth of it is, honest, open communication is vitally important for the health and well-being of every member of the adoption triad. And it isn't just that it can be hard to talk about sensitive subjects; sometimes it's that we are completely unaware that these conversations are necessary.
This week, Dr. Beverly Daniel Tatum used her 40 years of research into race and racism as a prism with which we could start to untangle the complicated intersections of race and adoption. She started by asking our audience to think about their first racial memory.  For most, it happens as a very young child. She went on to say that, when she asks this of groups of people, she also asks them what emotions are tied to that memory, and it's very often feelings like discomfort, anxiety, shame, or fear. But when she asks the question, "So who did you tell?" the answer is nearly always, "no one." It was a powerful reminder to white adoptive parents that, while they might not feel the need to talk to their children about race, we know that those children are absorbing everything around them, including attitudes, stereotypes and  racial hierarchies.
Moderator Pamela Cook did not shy away from asking the hard questions: should parents adopt transracially if there aren't racial mirrors for that child in the community? What should mothers look for if they are considering placing their child with parents who are not the same race? What should white parents be teaching their white children about race in America?  What do parents who have transracially adopted do if they have racist family members?
Panelist Shanyce gave a clear picture of how important it is for birth mothers to think seriously not just about their child's physical health, but about their mental health. As she pointed out, often the only real evaluations being done regarding the environment a child might be placed in are focused on physical safety. Are there exposed wires in the house? Is the house a safe place for a child to grow up in? But it is the emotional and psychological safety of that child that people often don't think about. And as she pointed out, it isn't just race that needs to be considered, but also the importance of having knowledge about a child's cultural background as well. Expanding on that, panelist Kevin added that, along with honoring that child's cultural background, adoptive parents also need to make sure kids have a connection to someone like them.
It is impossible to give a detailed recap of this session, in part because the conversation between our moderator, speaker, and panelists was so nuanced, and covered such a broad range of topics. However, as we go into the holiday season, Dr. Tatum gave us a model for how to address racism at family gatherings, and it is such a smart and effective strategy that we wanted to share it. She calls it "The Three F's – felt, found, and feel." Those three elements are the scaffold for a script that can allow white parents to shut down racist or pejorative comments from relatives. This is her script (paraphrased), that parents can say to that relative:
"When I was growing up, I felt that way, too, because I heard those jokes and stereotypes on TV and from the people around me, but then I found out new information about how diverse that community is --  that stereotypes about them are really misguided --  and now I feel it is important for me to speak up, because I want my son/daughter to know these stereotypes are misguided and I don't want them to be hurt by it."
One of the threads that ran through every conversation in this session was that parents have to get comfortable talking about race, and that they have speak up. They have to talk about race, and racism, and they have to confront racism on behalf of their child. As Dr. Tatum says, "It's incumbent upon the adults to speak up. From a child's point of view, your parent is your first ally. And so, if the parent is not the ally, then who will be?"
Next week is the last session of our Speaker Series, and we are excited to welcome author Liz Pryor, whose book, "Look At You Now: How Keeping a Teenage Secret Changed My Life Forever," is a moving exploration of her birth mother experience.  Activism in AdoptionTicketholders can access videos of the past three speakers, and for hopeful adoptive parents, these are an excellent education, and an opportunity to hear from birth mothers and adult adoptees about their real, lived experiences.