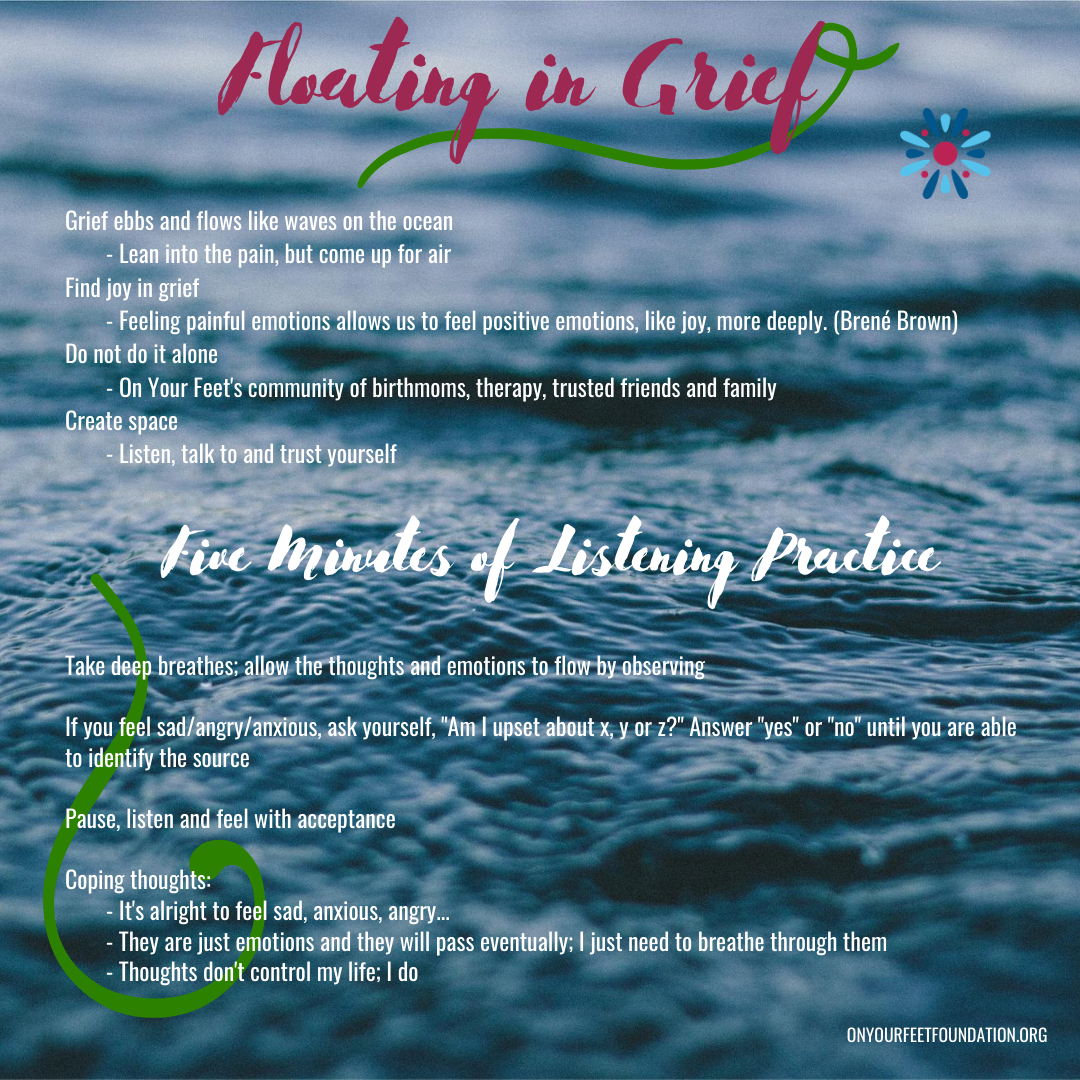 Grief ebbs and flows like waves on an ocean. The emotions that accompany grief can be dark, huge and far apart; they can feel small and unrelentless when continuously crashing down; and other times, grief can feel like rip currents that are pulling us further and further from shore. During these periods of intense emotions, we need to stay calm and learn to float. We can lean into the pain, deal with the waves, and take time to come up for air. We can get comfortable with the grief, without letting ourselves drown. 
How do we get comfortable with grief? There is no one right way. Like ocean waves, grief may look different on different days and can feel different to different people. Maybe time will help us feel comfortable, or learning to face the grief head on and not hiding from it may help. Sometimes we might find that we can slow down, sit and breathe through the feelings; while other times, our grief requires more work, like therapy, exercise or journaling. Once you recognize ways that help you feel comfortable with grief, take note, and use them the next time you feel yourself starting to drown.
The following techniques may help us become comfortable with our grief and learn to float:
1. Acknowledge the heavy emotions that often accompany grief. Naming and owning the feelings associated with grief, rather than hiding from them or feeling victimized by them, helps us learn to recognize and learn from them. These big emotions or feelings can range from panic, fear, shock, numbness, denial/disbelief, disorganization, confusion, searching and yearning to guilt, regret, sadness, depression, numbness, relief and release. Sometimes grief manifests as physical symptoms, as well. What emotions/feelings do you experience when grief hits?
2. Find joy in grief. Allowing ourselves to feel the painful emotions enables us to feel positive emotions like joy, more fully (Brené Brown). Remind ourselves that feelings are feelings and are not good or bad. Immersing ourselves in grief long enough to discover that we can float gives us more freedom to feel the joy and love that remain in our lives.
3. Do not do it alone. "Healing grief is often an overwhelming and lonely experience. We often don't feel that we have the framework to recover, we don't think we have the tools to help us overcome the feelings that devastate us." (Kubler-Ross and Kessler). To help ourselves stay afloat, we need a lifeguard, like a trusted friend, watching out and supporting us. Someone like a therapist, our On Your Feet community, and/or understanding friends and family - they can all be there to pull us out of the waves and into the calm.
4. Create Space. To keep afloat, we need to create space for ourselves and sit mindfully with our emotions; listening, talking to and trusting in ourselves. When we learn to sit mindfully, we can bring compassion to whatever we are experiencing, learning to be there for ourselves through the positive moments, as well as the painful ones. Learning to relax, finding ways to stay calm, and taking deeper breaths to bring a sense of relief, are all ways to feel that we are floating in our emotions, instead of drowning in our grief.
In closing, we find that grief can be "a transformative process" and that "in our worst we have the power to find some thread of hope" (Kubler-Ross and Kessler). Embracing our grief and the dark emotions that may accompany it takes practice. Each time we practice, we learn to trust in ourselves and our capacity to handle our experiences; we develop resilience for moving through life's challenges. We learn we don't need to drown with the grief… we learn how to float until we can swim.