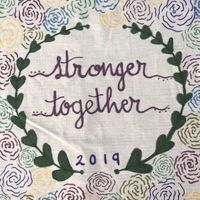 THE IMPORTANCE OF COMMUNITY
Birthmothers reach out to On Your Feet several times a month requesting information about grants, case management, retreats, and other services; however, the most requested inquiry is for connection: 
Connection with other birthmoms
Connection to help build support and community
Oftentimes after placing, birthmothers feel alone and isolated in a world that doesn't understand their grief. Even if they have a support system with their adoption worker, family, and/or friends, it's not the same as being able to talk with someone who can truly understand the challenges and emotions unique to birthmothers. Further, many who may benefit from counseling are simply not in a place that they feel comfortable seeking this kind of help.  We have also seen firsthand how difficult it can be to find adoption competent therapists.  These two factors further emphasize the importance of building a network of support between those who share this unique life experience. 

Everyone needs to feel that they belong - to have a place where they can share their hardest moments and shed tears - as well as a safe place to celebrate joys and victories. We all need to find our tribe, including birthmoms. Having a group of people in their corner who are empowering, supportive, honest, and understanding can help birthmothers feel accepted, strong, and understood - knowing that they are not alone.

This is why we need to encourage the birthmothers we know to attend retreats and events designed for birthmothers. We need to find support groups and connect birthmothers with one another. We need to push birthmoms to build their community whether it's through texting, phone calls, emails, social media or by sharing stories over coffee or dinner. We must meet birthmothers where they are and encourage them to find their tribe.
---
WE ARE YOUR TRUSTED PARTNER
Visit our new website for more information and additional resources.

You want the best for your birthparents, but, at times, you may find that you lack the resources needed to ensure they reach their goals. Sometimes, this happens due to timing issues from placement to when services are required. Other times, the emotional needs of birthparents simply change as time progresses.  

Unfortunately, the truth is, you can only do so much.  At some point, you'll need access to services beyond your own.  Services such as conferences, events, or retreats for your birthparents. 

What you need is a partner, not a competitor. A partner you can confidently refer your birthparents to because they know the latest adoption laws, they have a network of resources, and most importantly, they can provide the ongoing care and support your birthparents need. 
---
AGENCY NETWORKING MEETINGS
ILLINOIS: Please join us at our Illinois Agency Networking Meeting on Thursday, April 16th from 10:30am to 12pm. If you are interested in hosting the meeting or have a topic you would like to discuss, please contact Jennifer.
INDIANA: Save the date for our On Your Feet Foundation/Agency Networking Meeting on Thursday, April 16th from 9:00am to 10:30am. If you are interested in hosting the meeting or have a topic you would like to discuss, please contact Abigail.  We hope to hold these on a consistent basis and look forward to seeing you there! 
---
2020 RETREAT DATES
Please spread the word about our 2020 Birthmother Retreats! These retreats are open to all birthmothers. For more details, please contact Jennifer or Abigail. Need-based grants are available for transportation assistance and to cover the discounted cost of the retreat. Additional information is also available on our website. If your agency is interested in becoming a retreat sponsor, please contact Alexis for details on this unique opportunity.
Spring Retreat:  April 3-5; Registration opens February 10
Veteran's Retreat:  May 15-17; Registration opens February 10
Fall Retreat:  September 25-27; Registration opens July 27