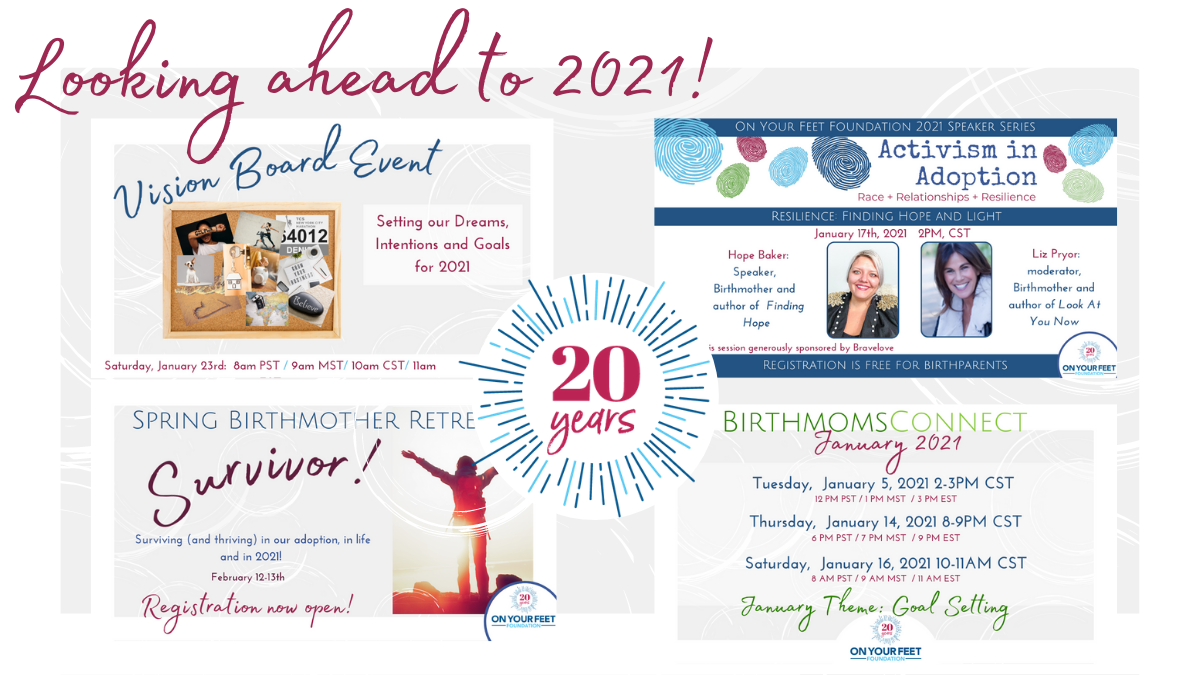 We made it to the last week of 2020, and yes, we have been counting down the days! We are as happy as everyone else to see 2020 in the rear view mirror, but also, it's because we have so much happening in 2021 - both for birthmothers and the greater adoption triad community - and we just can't wait for the New Year!
First up in January, our Vision Boarding event: Setting our Dreams, Intentions and Goals for 2021. This one is just for birthmoms, and it is a great way to get together (virtually) with a safe, supportive community, and set intentions and identify goals for the new year. Vision Boards are a collage of images, words, and phrases that capture your dreams, intentions, and goals. The intent of this collage is to inspire ourselves into focused action: work-life balance, new job, start school, finishing a degree, connection with kids and family, time in nature, healthy living, travel, etc. A special token will be provided for all who attend, and a list of suggested materials to create your boards will be emailed prior to the event. Registration is open now, but closes on January 1st, so if you are interested, now is the time to register.
Goal setting is also the theme for our January BirthmomsConnect calls. Virtual and free, our BirthmomsConnect calls are a great way to find support and community in a safe space, no matter where you are, or when you placed. We do require registration beforehand, so check out our 2021 schedule, add it to your calendar, and please join us. Make us the first goal you set for 2021!
Speaking of goal setting, our first Birthmom Retreat of 2021 is happening February 12th and13th - set a goal of joining us!
Our retreats are run for birthmoms by birthmoms: every woman at the retreat, whether a facilitator or participant, is a birthmom. Our retreats are the one place where everyone understands each other because they have lived the same life-changing experience. While this one will be virtual, for safety, it's still an incredible bonding experience, and because it is virtual, there is no geographic limitation on who can attend.
We meet you where you are: angry, happy, hurt, relieved, in pain… and potentially all of those in the span of 5 minutes. We accept and acknowledge the hard emotions. They are real. We stay connected long after the retreat ends – ensuring that when you leave, not only do you have a community of other birthmoms to continue with you on your journey; but our retreat and case management staff will follow up to ensure that you have the support you need, including access to adoption-competent counseling, if needed.
Registration for our retreat is now open, but closes January 22nd, so don't delay - spaces go fast.
In 2021 we are also excited to launch our monthly Activism in Adoption Speaker Series. This series is for anyone with a connection to adoption: everyone in the immediate adoption triad, as well as extended family members, adoption professionals, therapists and social workers, medical staff focused on women's health, potential adoptive parents, and friends.
We started this series as a limited run in Fall 2020, because it was apparent to us that there just aren't opportunities out there for everyone connected to adoption, including potential adoptive parents and adoption professionals, to come together in a safe space and learn from each other in ways that help them become better advocates for themselves and each other. Overwhelmingly, audience feedback asked for more, and this monthly speaker series is our answer.
First up, our January speaker and moderator, both of whom are birthmothers, and both of whom have published critically acclaimed memoirs about their experiences.
. We are honored to host Hope O Baker and Liz Pryor in conversation this January. Tickets are now available, and we hope you, and those around you connected to adoption, will join us. Tickets for birthparents throughout the entire series are complimentary, thanks to our friends and donors, and January's session is generously sponsored by our friends at BraveLove.
There's more to come in 2021 - this is just the start for us - but as we say goodbye to 2020, we can't think of a better way to end the year than to share our excitement about all 2021 is going to hold.