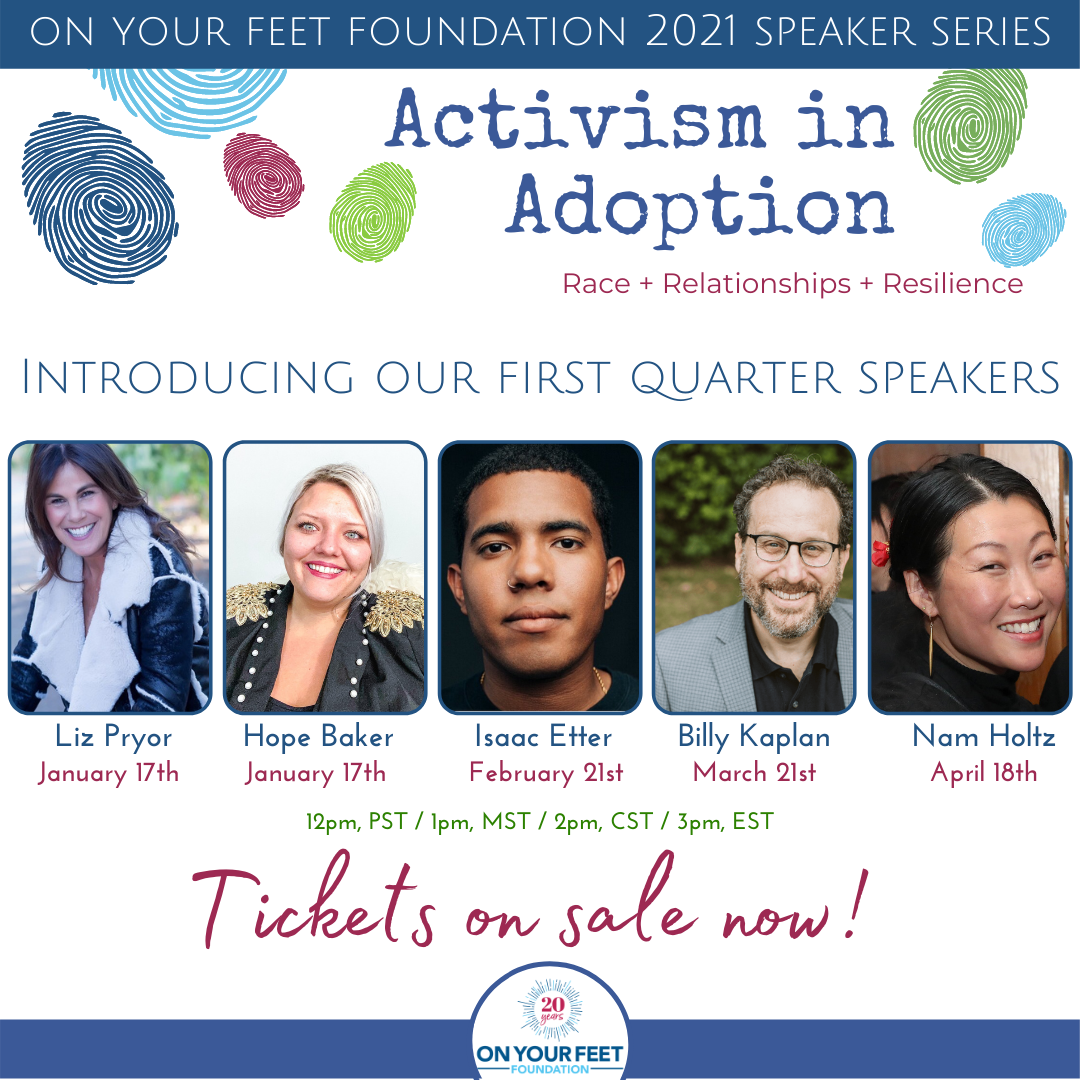 In the Fall of 2020, we launched a virtual speaker series comprised of a group of experts from all sides of the adoption triad During that limited series, we  featured life coach and transracial adoptee, Pamela Cook; birthmom and advocate, Cathy Crossno;  advice expert, and author of Look at You Now: how keeping a teenage secret changed my life forever Liz Pryor, award-winning documentarian Nam Holtz, diversity trainer and author of "Growing Up Black in White," Kevin Hofmann, and President Emerita of Spelman College and author of Why Are All the Black Kids Sitting Together in the Cafeteria? And Other Conversations about Race Dr. Beverly Daniel Tatum. Our audience in the 2020 Activism in Adoption sessions was a balance of triad members and adoption professionals, who had the opportunity to hear our speakers and panelists go to vulnerable places, and present their stories – unvarnished and honest – in a safe and supportive environment, and then participate themselves as we opened the floor for questions.
       Two very clear lessons emerged from that speaker series. First, that there just aren't opportunities out there for everyone connected to adoption, including potential adoptive parents and adoption professionals, to come together in a safe space and learn from each other in ways that help them become better advocates for themselves and each other. Second, nobody that attended our limited run speaker series in the Fall wanted the conversations we had sparked to end. 
       And so we are excited to announce that those conversations are not ending! Starting in January 2021, we present a new, year-long Activism in Adoption Speaker Series.  Based on the feedback we received, this year we are hosting twelve sessions, one each month, centered in the following themes:
Race: Unpacking self-identity within the framework of adoption

International adoption, becoming a multi-racial family, combating bias and systemic racism, and honoring birthparent and adoptee perspectives in transracial adoptions will be cornerstones of this topic. 

Relationships: communication, healing, and advocacy

While all adoptions have unique structures, they consistently involve navigating and understanding relationships. In Activism in Adoption, we go deeper into understanding trauma and how trauma-informed parenting can impact all sides of the adoption triad. By engaging all perspectives in this training, we are equipping ourselves with the tools and strategies necessary to move forward and build healthier, stronger relationships.  

Resilience: building it in ourselves, and encouraging it in others

We all take challenges and overcome them on a daily basis. But, adoption presents opportunities for strength and struggle in a unique landscape. In this topic, our experts have both wisdom and life experience to share and inspire our audience. Attendees will be given opportunities to seek answers to their own questions about tools for building resilience in themselves or others.
​Panelists in each session will join in to discuss ways to be an activist for yourself and your child. Together, we will learn how to address and talk about sensitive topics with your family, children, and community.
We are bringing back a few of our most requested speakers, and adding a few new experts to the mix, but the format remains the same: a featured speaker giving a 45 minute talk, including questions and conversation with an adoption triad moderator, followed by a panel of triad members taking questions from the audience as part of a larger discussion.
Our first quarter schedule is now finalized:
Session 1: Resilience ​| January 17th, 2PM CST  ​| Speaker and birthmother Hope Baker, in conversation with moderator and birthmother Liz Pryor.
Session 2: Race | February 21st, 2PM CST Isaac Etter: CEO/Lead Consultant at Etter Consulting, and transracial adult adopted person.
Session 3: Relationships & Trauma |​ ​March 21st, 2 PM CST | Billy Kaplan:  LCSW focusing on adoption, attachment, and trauma.
Session 4: Found in Korea Screening & Discussion | April 18th 2PM CST | Nam Holtz,: Documentarian, LMSW focusing on child and adolescent trauma, attachment, and adoption, and transracial, transnational adult adopted person.
We hope you will join us, either for a few à la carte sessions, or for the entire year. Registration is now available, and as always, tickets for birthmothers are complimentary. All proceeds from our Speaker Series go toward supporting our programming for birth parents. 2020 was a challenging year, but we are very proud of what we were able to accomplish.
For potential adoptive parents, and adoption professionals, one of our goals in this series  is to help adoptive parents learn to become adoption activists, and give them the tools they need to help their child navigate their feelings and experiences as adoptees. As one of our Fall attendees told us, "This was the best training we have attended as future adoptive parents."   All attendees will receive adoption training credit and certificates upon request.