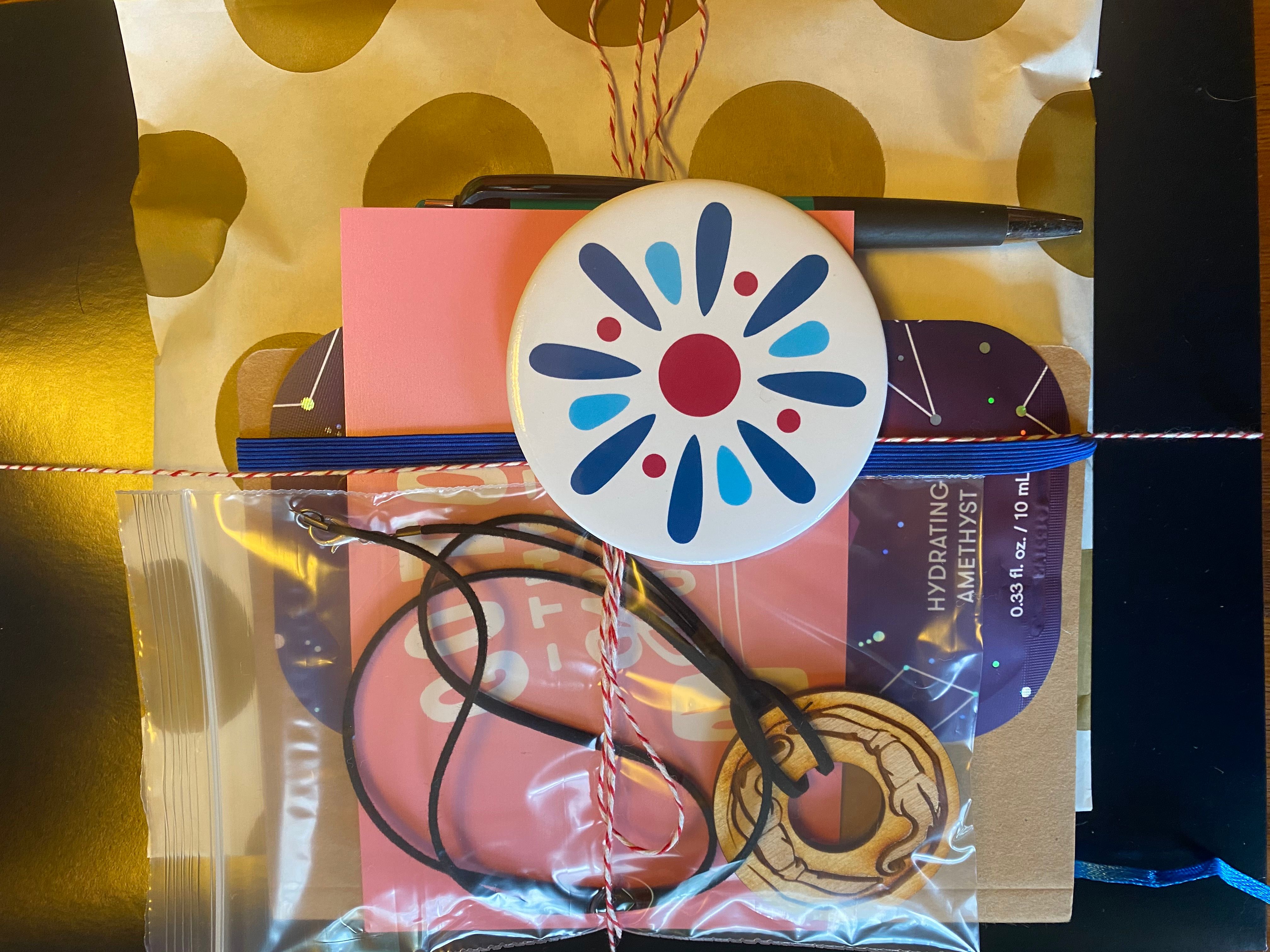 At the end of September, On Your Feet held its first ever virtual retreat. While we would never risk the health of either our staff or our attendees, the thought of going an entire year without offering such a vital part of our programming just didn't sit well with us. Our retreats have been happening for nearly twenty years, and we couldn't fathom missing it. This year has thrown so many challenges at us all, but like the birthmoms we serve, we were ready to rise to the challenge. Re-tool our in-person retreat to an online format? Of course we can!
It wasn't easy, but our retreat facilitators worked together to develop a virtual curriculum that incorporated many of the same traditions shared at our in-person retreats, keeping it a valuable and meaningful experience, while Alexis and Vicki gave up a weekend to assemble special treat boxes that were mailed out to each retreat attendee, along with a personal note for each of our nineteen participants.
Our retreat opened with everyone opening their boxes together, to find a candle, a token commemorating our theme, supplies to create a flag during our craft night, and a few other items. This shared moment led to storytelling after our opening ceremony, where each participant had the opportunity to briefly share her journey with the other attendees. It can be hard to know where to start, but our wonderful retreat leaders prepared a set of prompts designed to help everyone narrate their story, which was helpful, because each participant had just six minutes, start to finish. It's a lot to cover in such a tiny amount of time, but it was all we needed to connect, get comfortable, share, and bond before diving in the next morning.
Saturday's agenda kicked off with a check-in to see how everyone was doing. Then it was time to dive into sessions in small groups with everyone coming together for lunch and a session on Social Media and Adoption – a topic always covered at our retreats.
Break-Out Sessions included:
Healthy Relationships & Boundaries
Survivor to Thriver/Self-Care
Surviving Secrets
Unmet Expectations/Accepting things you cannot change
While we know that a virtual experience has drawbacks, even our facilitators found that they were able to take a deep breath and relax into the comfort of doing something that felt normal and good and right – knowing that we were able to share a meaningful experience with so many new faces, and see a number of familiar faces, as well. The retreat sessions flowed naturally and the women seemed very comfortable sharing and were open with each other. This contributed to the overall feeling of connection and sisterhood over the weekend.
Many attendees spent extra time bonding after the days' sessions ended well into the night (and early AM!) hours and formed lasting friendships. It was evident how needed and valuable connection is during these times. While we couldn't have anticipated that we would have to turn our regular in-person retreat into a virtual one, there is a tremendous silver lining to going virtual: we got the unique and valuable opportunity to connect with birthmothers from all over the country, many of whom have never had a birthmother community or meaningful post-placement support.