Pamela Cook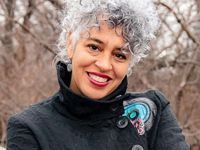 Life coach, Transformational Speaker, Performer
Pamela Cook founded Mosaic Experience in 2008, where she has helped organizations shape their culture and work environments. She focuses on real dialogue, putting goals into action for quick and long term results. She notices the proverbial "elephant in the room", and gets down to business on how to move your organization forward.
She was a facilitator for the Anti-Defamation League for 25 years, during which she has led hundreds of programs, including Anti-Bullying, Peer Mentoring, and Anti-Bias workshops for students and teachers. Pamela was the co-founder of Bridge Communications, where she mentored adoptive parents how to raise a child in an inclusive, multiracial home.
​She has been featured in the Chicago Tribune, Chicago Magazine, Fox News Chicago, and Evanston RoundTable and has spoken on the Oprah show. Most recently, she was a featured speaker at CAFFA.
Pamela has been a teaching artist at the University of Chicago and Lookingglass Theatre. At Mosaic Experience, she merges her talent and creativity in the performing arts with corporate coaching, interactive assemblies and public speaking. She obtained a BA in Theatre and Film from the University of Kansas.
Pamela Cook lives in Evanston, Illinois with her husband and 5 boys. She enjoys dancing, gardening, traveling, and yoga.