Cordan James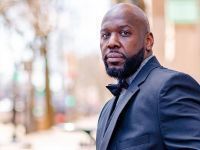 Cordan James is a voice laced with truth and a mesmerizing cadence that brings you back to self. He inspires the feeling of being totally submerged underwater, ears sensitive to your own heartbeat, and completely aware that being consumed isn't so bad when you can see your way to the surface. Cordan's voice, life, and mission is all about giving children hope for the future they dream of and reminding adults that it's never too late to manifest the fearless imaginings of their childhood.
"The truth is what we run from because that mirror is always exposing and harsh, but I believe that it's the truth that will free us from our pasts and make room for our futures." 
As a Motivational Speaker, Cordan James draws upon his experiences as a child of a Transracial Adoption (TRA), a leader in the US ARMY, and a mentor with a non-profit organization that uses storytelling and mentorship to empower fathers called Fathering Together. He aims to inspire fathers to achieve their birthright through cultivating safe spaces for their families to heal and thrive.
"As long as you have breath, you have purpose; and I hope your purpose is reignited by the story of my life, and perhaps by the profound simplicity of my salutation that longs for you to truly have a great day."