Billy Kaplan, LCSW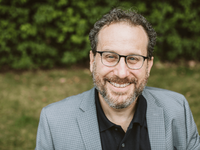 Billy Kaplan is the President and Clinical Director at House Calls Counseling. Billy works with individuals, couples and families primarily using an attachment-focused, trauma-informed approach. He specializes in working with adolescents and families, especially those that formed through adoption. He has advanced training in Dyadic Developmental Psychotherapy and Brainspotting.
With over thirty years of experience, Billy is a seasoned trainer who has presented extensively locally, nationally, and internationally on attachment disorders, therapeutic parenting, adolescent development, child welfare, and a host of other topics. He has consulted with social service agencies throughout Chicagoland and he has held adjunct teaching appointments at Loyola University School of Social Work and Governor's State University. He is a graduate of Bradley University and he earned a Master of Social Work degree from Yeshiva University, the Wurzweiler School of Social Work.
At his home in the northern suburbs, Billy, his wife and daughters spend too much time admiring their cats. Billy is also a singer and a songwriter who has performed for the last several years. Billy plays the baritone Ukulele and percussion with his own band and his synagogue's Klezmer band.
"While I am seriously dedicated to helping improve the lives of the people I work with, I also believe that psychotherapy doesn't have to be serious all the time. I encourage and facilitate fun, joyful experiences while we're working together."