Corporate & Agency Sponsorship Opportunities
---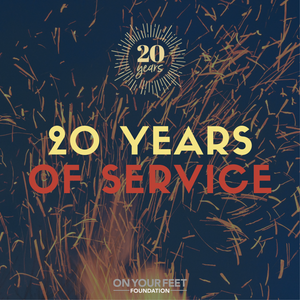 Our week of celebration for On Your Feet Foundation's 20th Anniversary will take place November 6th-13th 2021. This celebration will feature an in-person event at an historic residence in Evanston, IL, a virtual event for all to join regardless of location, and a silent auction. All events will recognize On Your Feet Foundation's twenty years of providing birthparents with the community, support, and services they need to heal and to thrive.
Did you know that only 30% of non-profits survive more than ten years? On Your Feet Foundation is proud to announce that we are thriving at twenty! We are nationally known for our comprehensive birthparent support services and are reaching women across the United States and Canada with case management, retreats, virtual support groups, and our new mentor program. For two decades, we have never turned away anyone in need of our help, but as our reach has grown, we have experienced an ever-increasing demand for our services. With your help, we can continue to meet the needs of this vulnerable community and continue to offer vital programs to all seeking post-placement support. 
You can help us continue to serve birthparents by becoming a Gather sponsor today!